Home

/

Lighting

/

Elinchrom D-Lite RX4 Set with Xlite 90cm Octa
Elinchrom D-Lite RX4 Set with Xlite 90cm Octa
01.20839+OCTA
Product Features:
400ws of consistent flash power
Automatic temperature controlled ventilation
Built-in Skyport receiver for wireless triggering
Lightweight and strong housing. Robust, functional and elegant
Acc bayonet accepting all acc and Rotalux s/boxes upto 135cm
Stand bracket with extra umbrella fitting for larger umbrella shafts
Swiss designed and tested
Includes Xlite 90cm Umbrella Octa Softbox
Includes stands in a carry case
2 year warranty
Essential Add-On's we recommend
Description
The D-Lite RX4 is one step up in the Elinchrom studio flash family, offering a robust case with ergonomic handle for harder working when using larger accessories.
With 400Ws, these units are ideal for small business applications, portraiture and for everyone interested in the most creative lighting. These Swiss designed and tested units will not only give many years of reliable service and pleasure, but also make it extremely easy to upgrade your lighting as your interest and need grows. The Skyport remote control built into the Elinchrom units offers cordless triggering and control of power from the camera, and control of all functions from many other common devices.
This set includes the latest EL-Skyport Transmitter Plus. A strong and robust design which enables photographer's to simply trigger and adjust flash power up to 200m away, optimize reception by its swivel functionality and is powered by AA batteries.
Features:
400Ws down to 8Ws power range, perfect for small environments and shallow depth of field.
Built-in receiver for triggering and power control with the EL-Skyport Plus
Skyport delivers the most comprehensive synchronisation and control and it's unique to the whole Elinchrom system.
Intelligent pre-flash detector system enables the full use of D-Lite RX's with speedlights.
Adjustable proportionality of the modelling lamp range
Variable f-stop steps : 1/1, 1/2, 4/10, 1/3, 2/10 or 1/10
Very short flash durations to offer sharper images
Exceptional colour balance across the power range.
Temperature controlled cooling fan.
The accessory bayonet accepts the complete range of light modifiers.
Centred 7 mm umbrella shaft enables also the use of the unique Elinchrom Deflector set.
Stand bracket with additional umbrella fitting for larger umbrella shafts.
User replaceable plug-in flashtube
Power auto-dump, will automatically adjust the flash power when reduced to a lower value
Multi-voltage auto-detection: 90-270 V (excluding modelling lamp)
The Elinchrom D-Lite RX4/RX4 Softbox To Go Set Includes:
2x Elinchrom D-Lite RX4 Flash Heads
Includes, modelling lamp, protective cap, sync cord and mains cable
1x Elinchrom Portalite Square Softbox 66 x 66cm
1x Elinchrom Portalite Octa Softbox 56cm
1x Elinchrom Translucent Defector
1x Elinchrom Skyport Transmitter Plus
1x Lighting Stand Set (2x 88 – 235cm Stands With Bag)
1x Tube Case for D-Lite 2/4 Flash Heads
1x Xlite Pro Umbrella 90cm Octa Softbox
1x 2 Year Manufactures Warranty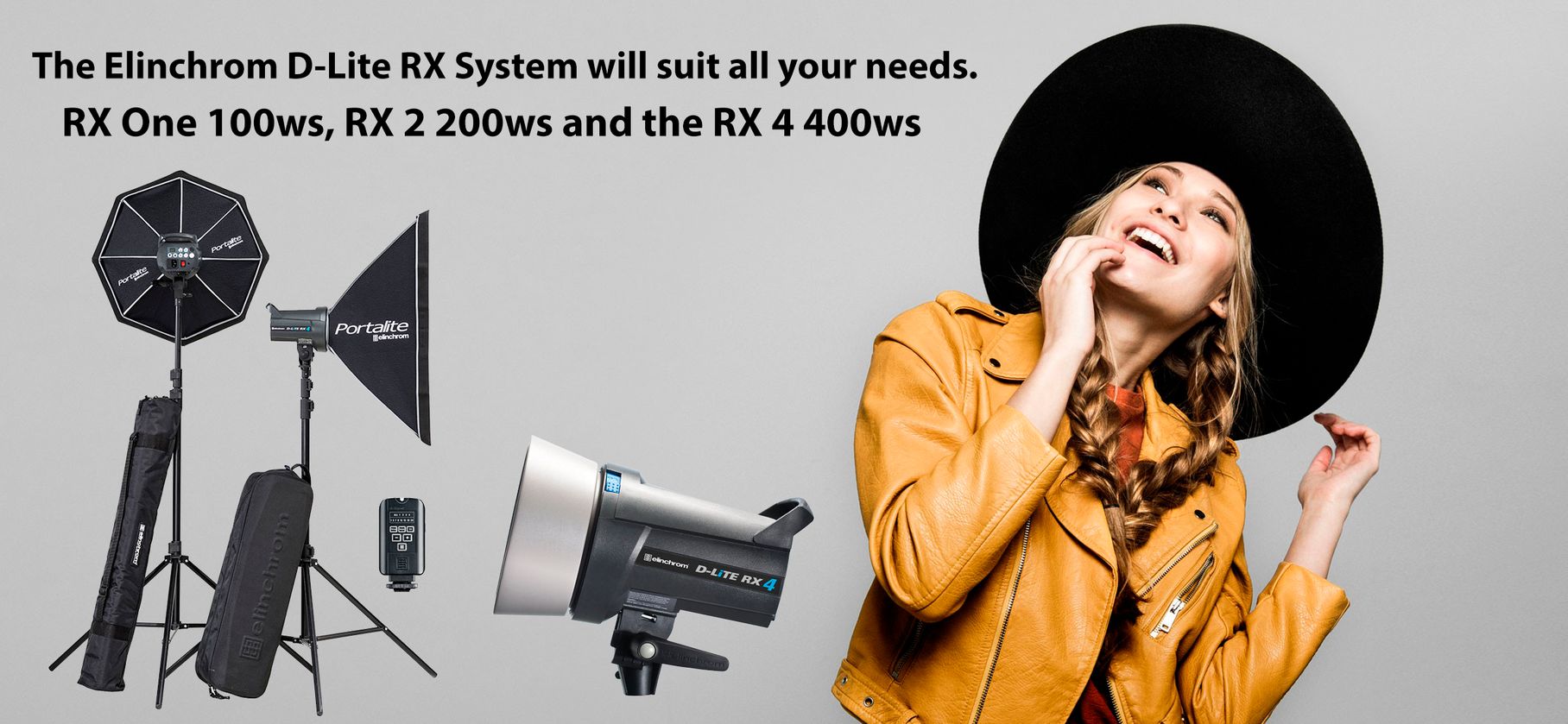 Xlite 90cm Pro Umbrella Octa Softbox + Grid & Mask for Elinchrom

Xlites Pro Series Softboxes come in a wide variety of shapes and sizes. Designed with a recessed front edge so the
included grid and mask can be easily fitted in order to meet the specific needs of all types of photographers. These newly designed lighting modifiers have been manufactured to stand up to everyday use by professional photographers.Xlite Pro Octa Softbox for Elinchrom features:Durable, heat-resistant material, making it suitable for use with any flash, LED and fluorescent light sourcesStippled silver lining, for even, edge-to-edge light throughout the softboxCoated outer diffuser, for more durability and to eliminate magenta colour shiftInner diffuser, for a more even and softer lookGrid & mask, for better control of light on the subject or background.Folds down like a regular Umbrella, but expands straight into an octagonal softbox for instant useXlite Pro Octa softboxes create a unique, natural-looking light that is not easily replicated by traditional square or rectangular softboxes. These unique features make Octa softboxes ideal for portraiture and fashion photography. The rounded shape of an octa creates a natural, round catch light in the subjects' eyes. Unlike traditional square or rectangular softboxes, octa softboxes do not have a long straight edge. This creates a wrapping effect that opens up shadows and creates a natural, gradual gradient from highlight to shadow. Octa softboxes are typically used as a main light, or as a soft fill light indoors or out.Perfect for on-location shooting. It folds down like a regular umbrella but expands straight into a octa softbox for instant use, saving time over traditional softboxes which require rods and speed rings for assembly. The recessed front diffuser allows for more precise positioning and feathering of light. Included is a removable grid and mask to better control light spill in situations when accuracy is essential.
Xlite 90cm Pro Umbrella Octa Softbox for Elinchrom Includes:


Outer reflective material
Outer diffuser
Inner diffuser
Speed ring to fit adaptor
Elinchrom softbox adaptor 14.4cm
Grid and Mask
8 Support Rods
Carry bag