Home

/

Epson Surecolor F9360 Dye Sublimation Printer 3Yr Warranty
Epson Surecolor F9360 Dye Sublimation Printer 3Yr Warranty
95.1.SCF93603Y
Product Features:
Max Resolution: 1440 x 720 dpi
Max Printable Width: 1625mm
Sellable production at up to 93m2/hr
Dual PrecisionCore TFP Print Head Technology
PrecisionDot Screening Technology
Refillable ink tanks hold 1.5 liters per colour
2L re-usable waste tank
Ideal for flatbed heat transfer press application
Spindl free Roll Media Adaptors
USB 2.0 and Ethernet Connectivity
Epson Surecolor F9360 Dye Sublimation Printer 3Yr Warranty
Essential Add-On's we recommend
Description
Why You

Should

Buy From Kayell Australia

Kayell Australia is one of the largest and most experienced professional imaging solutions providers in Australia. With a large team of skilled staff across the eastern seaboard of Australia we can offer on-site, in-store and phone assistance on all aspects of the printing process associated with Fine Art Reproduction, Photography and the Graphic Arts businesses.

As one of the few exclusive Epson Premium Platinum Partners, we have the Presales and Post Sales abilities to provide you with the best possible solution and support for all your printing needs. Additional to the printing process, we also offer a huge range of consumables to suit all types of printers and the staff to implement the workflows and colour management to all the products we distribute and sell thru our retail outlets.

Ask just about anybody and they will know of us or have purchased from us, with over 50 years in business this year, our staff and reputation are unmatched.
---
When the Epson SureColor Fabric DS series was first released it represented a revolution; designed from the ground up for Dye Sublimation, it provided a single-vendor turn-key solution with full factory warranty. The F9360 takes this further, incorporating the very latest imaging technology to enable production at outstanding speed with superior quality and an exceptional gamut.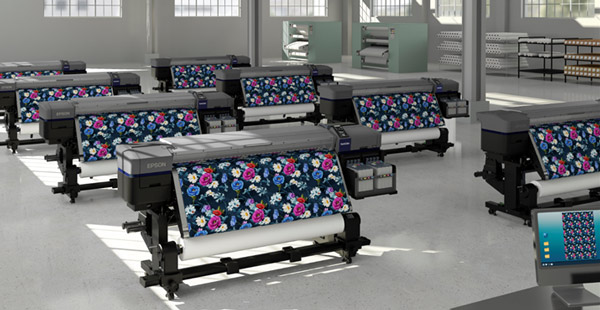 The SC-F9360 combines the latest Epson Precision Dot Technology, with advanced media management, and UltraChrome DS HDk ink, to enable exceptionally high speed production with outstanding print quality. It achieves an exceptional gamut using just 4 colours and will print at speeds up to 109m2/hr. The 64" wide print engine is supported by a large Continuous Ink Supply System (CISS) and a high precision Auto Take-Up. It is simple to operate, ships complete with software, and its self-cleaning system ensures reliable operation with minimal maintenance. The printer is designed for soft signage and fabric production and can also be used for hard surface work.
FEATURES AT A GLANCE

Superior Quality

– DUAL Epson heat-free PrecisionCore™ (TFP) Print Heads support resolutions up to 720x1440dpi using Epson UltraChrome™ DS ink for precise, predictable and bright colour. Uses an HDk ink formulation and Epson Precision Dot Technology to achieve outstanding image quality with fine gradation and an exceptional gamut.



High Reliability

– combines a proven production platform with an upgraded heater, platen and head carriage. Smooth and stable production is supported at the fastest speeds with integrated crash guards and dust collectors for worry-free operation. The printer is backed by a comprehensive warranty that can be augmented with up to FIVE YEARS CoverPlus protection1



Excellent Flexibility

– compatible with roll media from 12" to 64" (300-1626mm) wide in thicknesses from 0.04 to 1mm. Supports a wide range of quality requirements and material needs with standard modes for fabric and enhanced HQ modes for hard surface work.

Outstanding Productivity

– designed for production speeds of 18 to 60m2/hr, sellable output can be made at up to 93m2/hr. A large 12L Continuous Ink Supply System is matched with support for media rolls up to 45Kg and a high-precision Auto Take-Up for unattended roll-to-roll operation.



Reduced Cost

– runs off a standard power supply, is relatively quick to install1, and is supplied complete with Epson Edge Print software (can also be ordered with an optional high-performance Ergosoft RIP). Operates with reduced power consumption and uses cost-effective 1L ink refills. Requires minimal maintenance and features a self-cleaning print head. Downloadable software enables easy expense tracking & job costing.

QUALITY RESULTS AT MAXIMUM SPEED
The SureColor F9360 features a strengthened chassis for accurate tracking at the fastest production speeds. Dual heat-free PrecisionCore Thin Film print heads facilitate high resolution imaging with pin-point accuracy and outstanding uniformity. Epson's latest Precision Dot Technology has enabled significant improvement in gradation while also reducing graininess and banding at fast production speeds. An advanced new multi-part platen provides support for an enhanced range of media while upgraded print modes facilitate enhanced quality on fabric (Standard modes) as well as solid surfaces (HQ modes).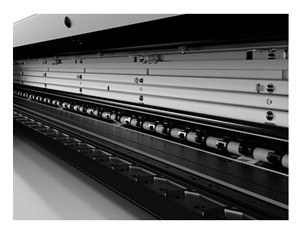 Epson UltraChrome DS Ink was designed to suit the production requirements of a wide range of goods from material and clothing, to soft signage and banners, customised surface treatments and merchandise. It provides vibrant and intense colour that adheres quickly, transfers smoothly and provides excellent light and wash fastness. It conforms to the AZO requirements and when applied to polyester fabrics it conforms to the latest Oeko-Tex Eco Passport® standard for safe use by adults, children and babies2. The F9360 was specifically designed to work with the advanced HDk version where, in conjunction with Precision Dot Technology, it enables gamut levels equivalent to competing product with 6 or more inks, using just 4 colours.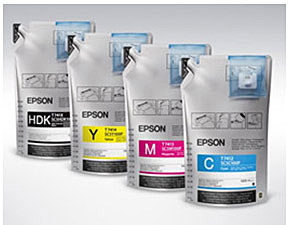 EFFICIENT WORKFLOW
The SureColor F9360 has been designed for efficient operation at high-speed. It incorporates an upgraded feed path with an active multi-point tracking and management system for quality imaging at the highest production speeds. The print heads are self-cleaning and mounted in a carriage unit that has an integrated crash guard and dust catcher. The printer incorporates a high-capacity Continuous Ink Supply System (CISS) that can be refilled while printing or pre-emptively 'topped-up' via a new 'chip-n-replace' facility. A high precision integrated Auto Take-Up (ATU) works together with advanced tracking and tension control to enable continuous unattended roll-to-roll production with consistent tension and parallelism. When used in conjunction with a calendar style heat press it can produce product of outstanding quality.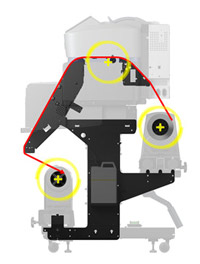 The SC-F9360 features a media loading system that can be managed by a single operator. It holds rolls up to 45Kg, in diameters up to 250mm, and thicknesses as little as 0.04mm. A simple and easy to use management utility, Epson Control Dashboard, enables media and profile information to be downloaded and made available for rapid selection. The same utility provides support for remote monitoring, management and reporting. An additional downloadable utility, the Epson LFP Accounting Tool, tracks costs and facilitates easy Job Costing.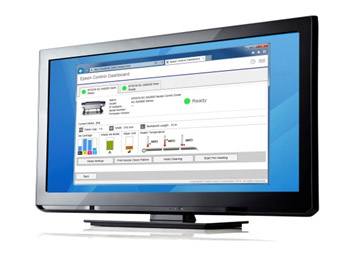 EASY TO INSTALL & OPERATE
The SureColor F9360 requires minimal space to operate. It runs off a standard 240V power supply and can be driven by a moderately powered PC. The printer ships with new Epson Edge Print software that is easy to use and incorporates a high precision Adobe Postscript engine for quality imaging of PS, EPS, PDF, TIFF, JPEG and PNG files. Edge Print provides all the functionality required to preview and process images with basic functions such as copy, position, trim and nest, as well as advanced tiling, step and repeat. For performance users the printer can be also ordered with the latest V15 version of Ergosoft Sublimation in an advanced Production edition.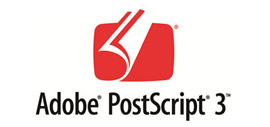 1Installation by a qualified engineer is strongly recommended and can be arranged with Epson either directly or through our Authorised Reseller Network. The independent sourcing of appropriate transfer equipment will be required and the use of an external heater/ blower system is generally recommended. After-sales service is co-ordinated by Epson in conjunction with our Authorised Reseller Network. Service may be restricted or limited when equipment is used outside of specification &/or with non-Epson consumables. For full details on coverage, terms and limitations please refer to our Warranty Statement.
2ECO PASSPORT by OEKO‐TEX® is an international standard for the textile industry system. It enables suppliers to demonstrate that products can be used in sustainable textile production. For further information please see the OEKO-TEX web site.