Home

/

SureColor T5200D 36 Inch Printer Inc Scanner, Post & 5Yr Warranty
SureColor T5200D 36 Inch Printer Inc Scanner, Post & 5Yr Warranty
95.1.SCT-5200DPS5YR
Product Features:
Max Resolution: 2880 x 1440 dpi
Max Printable Width: 914mm
Print Speed: 559 x 864mm Plot in 25 Seconds
Handles Media up to 59 mil Thick
Holds Two Rolls Of Media with 2 Inch or 3 Inch Cores
Five-Colour UltraChrome Pigment Ink Set
Control Panel with Full Color LCD
Stand with Horizontal Catch Basket
Optional Modules
USB 2.0 and Ethernet Connectivity
SureColor T5200D 36 Inch Printer Inc Scanner, Post & 5Yr Warranty
Essential Add-On's we recommend
Description
The Epson SureColor Technical series is a versatile and compact range of printers. They are designed for users who need to produce large-format colour and black-and-white images, economically and at high speed. They are compatible with a wide range of media from thin specialist stocks, to basic bond paper, to thick cardboard. They support ultra-high resolution print with dense and consistent colour. They are ideal for maps, plans, drawings, schematics, geological survey diagrams, sales presentations, posters and displays.

The SC-T5200D features Epson's latest PrecisionCore™ print head and aqueous UltraChrome® ink chemistry. It will print an A0 image in as little as 50s with output that dries almost instantly to be water and rub resistant. It is extremely cost-effective to run, with low power and low ink consumption. Ink ships in a range of cartridge sizes to suit different production and cost-per-print requirements. Designed for business and corporate environments, the printer features all front loaded consumables with dual rolls, features a small footprint, with support for installation against a wall or in a corner. It ships with a suite of software that enables easy printing from office and CAD/GIS applications complete with job costing and remote management facilities. An optional HDD is available for efficient workgroup operation with print server and reprint functionality. The printer can be ordered with an optional a high-speed Postscript®module for design and poster work, and a wide format scanner for full MFP scan, copy and document sharing functionality.

FEATURES AT A GLANCE
High Productivity

– prints an A0 image in as little as 50s and features an integrated high-speed auto-cutter

High Precision

– 2880x1440dpi resolution Epson PrecisionCore™ print head with VSDT for super fine lines, superior fills & half tones with optimised ink application

High Quality

– all-pigment Epson UltraChrome™ XD ink for water & scratch resistant prints with accurate, consistent and vibrant colour

High Reliability

– solid design and construction backed with a 'heads-n-all' warranty extendable up to 3 years3

High Flexibility

– supports roll, cut sheet and thick board up to 36" (914mm) wide with borderless output on a variety of sizes and a media bin with selectable flat or folded presentation

High Convenience

– LED control panel with integrated help, all-front loading consumables, spindle-less roll mounting, Barcode Roll Media Management system

Space-Saving Installation

– small footprint, can be installed and operated against a wall or in a corner1

Cost Effective Operation

– low ink consumption, low power consumption, large waste tank, and individual colour cartridges in sizes up to 700ml

Performance Workgroup Support

– large 1GB memory and high speed Gigabit Ethernet, supplied with remote management software, optional 320GB HDD for continuous multi-user operation with rapid direct reprint

Performance Workflow Support

– HP-GL/2 & RTL emulation2, remote job and error status notification, job costing utility, optional high-speed Adobe® Postscript® & wide format scan/copy/share MFP functionality
Quality Results at High Speed
The SureColor Technical series feature an advanced design with precision components, a solid laser welded chassis and fine tolerance robotic assembly. They take as little as 28 seconds to print an A1 image and are built to provide consistent high-speed operation with accurate media transport, minimum movement and low noise. All models incorporate Epson's patented Thin Film Print heads with micro-fine nozzles that support resolutions up to 2880x1440dpi. The heads are factory fitted to ensure maximum print precision and are designed to provide durable performance without the cost or inconvenience of regular replacement3. Integrated Variable-size Droplet Technology adds additional clarity to fine detail while enabling enhanced half-tone results and precise ink density control for superior colour and fill consistency with minimum consumption.

Epson UltraChrome Ink features an all-pigment construction with maximum colour precision and image durability on the widest range of media types. The XD formulation provides an extended gamut with particular focus in red and green for POS, display and presentation work. It provides output with vibrant colour, solid and consistent fills, crisp text and lines with a minimum width of just 0.02mm. When applied to quality media the ink is resistant to scratch and moisture damage which can be highly useful for plans and other working documents. The ink set incorporates both a matte and photo black with the printer automatically switching between the two depending on the output requirement.
Economic to Run with Flexible Media Support
The SureColor Technical series comes in three sizes to suit different output requirements. 24-inch (610mm) wide models supports output up to A1 and can be purchased in either a desktop or floor-standing configuration. 36-inch wide (914mm) models support output up to A0 while 44-inch (1118mm) wide models support B0 and larger. All models feature optimised running costs with low ink consumption, ultra-low power consumption and large cost-effective waste tanks. They use ink cartridges which can be ordered individually in a choice of 110ml, 350ml and 700ml sizes to suit different operational and costs per print requirements.


The Technical series has been designed to accept a wide range of roll and single sheet media. They support stock as light as 80gsm for draft work and have a special straight path that supports stock as thick as 1.5mm for presentation and model work. The series features a heavy-duty high-speed auto-cutter that will cut a wide variety of media and slice an A1 sheet in just 2sec. Roll media is quick and easy to load with a spindle-less design that facilitates easy exchange. For users who work with multiple media types, additional optional Roll Media Adaptor kits are available for pre-attachment to stored rolls along with Roll Belts for tension maintenance and edge protection. All printers have an inbuilt Roll Media Barcode Management system that tracks consumption and enables automatic re-configuration upon loading. For ultimate flexibility 36" and 44" models can be ordered in a Dual Roll version with fast 26s roll exchange. Roll selection can be made manually or automatically with configurable parameters. Images can be auto rotated for optimum media consumption and large print runs spanned over multiple rolls for efficient uninterrupted production.
Easy to Install and Flexible to Operate
The SureColor Technical series incorporates high-speed networking with support for the latest addressing and security protocols. Designed to operate with standard Macintosh® and Windows® applications, they also support HP-GL/2 and RTL emulation for specialist CAD, GIS and mathematical applications2. All models operate with convenient all-front loaded consumables and feature a compact design with all connections located on the right to enable operation against a wall or in a corner2. They provide remote email error and job status notification, incorporate a high degree of self-maintenance and have in-built help. All floor-standing configurations come with a stand and media bin with adjustable output presentation. Single Roll models feature an adjustable bin that holds up to 20 sheets with flat or folded display. Dual Roll models feature an extra-large bin that can be completely stowed when not in use. An optional auto take-up reel is available for the T7200 to enable high volume roll-to-roll production.4

The technical series ships with a suite of applications designed to enhance operational ease and management flexibility. Printers can be controlled from the desktop, from the large front panel colour LCD, or remotely via a web based utility. An in-built email system enables remote job status and error reporting while an included plug-in utility enables easy printing from MS Office applications. An optional accounting tool is available for free download to enable cost control and simplified job billing.

For printers used in a workgroup environment an optional 320GB HDD provides fast and cost-effective job spooling complete with flexible queue management, predictive consumables analysis, and rapid direct reprint. An optional PS Module provides the same functionality with additional high-speed hardware-based Adobe® original Postscript® 3™ image processing. PS functionality operates via hot-folder 'drag-n-drop' with configurable job processing and selectable document security. An optional Wide Format Scanner is also available for use with 36" and 44" printers. The scanner supports media up to 38" wide and provides high-speed high-resolution colour scan, copy and document sharing facilities. The Scanner and PS Module can be purchased together with relevant printer models to provide a complete high-performance MFP system5.
Delivery Options for an Epson SureColor Printer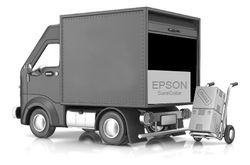 All deliveries need to be quoted and are additional to the printer cost
Access and postcode will factor in the cost of the delivery
If stairs are involved, we will require pictures showing the access
You must be available for the full day that delivery is scheduled
Pickup is an option, the pickup is from Sydney
Why You

Should

Buy From Kayell Australia

Kayell Australia is one of the largest and most experienced professional imaging solutions providers in Australia. With a large team of skilled staff across the eastern seaboard of Australia we can offer on-site, in-store and phone assistance on all aspects of the printing process associated with Fine Art Reproduction, Photography and the Graphic Arts businesses.

As one of the few exclusive Epson Premium Platinum Partners, we have the Presales and Post Sales abilities to provide you with the best possible solution and support for all your printing needs. Additional to the printing process, we also offer a huge range of consumables to suit all types of printers and the staff to implement the workflows and colour management to all the products we distribute and sell thru our retail outlets.

Ask just about anybody and they will know of us or have purchased from us, with over 50 years in business this year, our staff and reputation are unmatched.
---
---
1 When printing on board stocks the printer may need to be brought forward to allow space for media transport.
2 The HP-GL/2 & HP RTL implementation employed by different applications can vary. If this facility is important please contact Epson or one of our dealer partners to confirm compatibility and operational functionality prior to purchase.
3 When printers are installed, maintained and operated appropriately using Genuine Epson UltraChrome XD ink then print heads are covered under warranty with free on-site replacement subject to conditions outlined in the Epson Warranty Statement. Cover can be extended through the purchase of optional Service Packs up to a maximum total of 5 years subject to the same conditions.
4 The ATU enables cost-effective unattended roll-to-roll printing on the 44" T7200. When fitted the output basket must be removed. Output rolls may not suitable for use with finishing equipment that require precise alignment &/or tension control.
5 Maximum scan width is 36". If purchasing the scanner separately it is recommended that the printer be fitted with either an HDD or Postscript Module otherwise functionality will be significantly limited.