Home

/

Epson Surecolor F2160 4c - CMYK + 3 Year Cover Plus
Epson Surecolor F2160 4c - CMYK + 3 Year Cover Plus
110.SCF2160D3Y
Product Features:
Enhanced Productivity
Enhanced Print Quality
Enhanced Functionality
Enhanced Reliability
Reduced Operational Cost
Outstanding Flexibility
Easy to Install & Operate
Epson Surecolor F2160 4c - CMYK + 3 Year Cover Plus
Essential Add-On's we recommend
Description
Why You

Should

Buy From Kayell Australia

Kayell Australia is one of the largest and most experienced professional imaging solutions providers in Australia. With a large team of skilled staff across the eastern seaboard of Australia we can offer on-site, in-store and phone assistance on all aspects of the printing process associated with Fine Art Reproduction, Photography and the Graphic Arts businesses.

As one of the few exclusive Epson Premium Platinum Partners, we have the Presales and Post Sales abilities to provide you with the best possible solution and support for all your printing needs. Additional to the printing process, we also offer a huge range of consumables to suit all types of printers and the staff to implement the workflows and colour management to all the products we distribute and sell thru our retail outlets.

Ask just about anybody and they will know of us or have purchased from us, with over 50 years in business this year, our staff and reputation are unmatched.
---
When the SureColor Fabric series was first launched it represented a revolution in textile printing. The equipment was designed from the ground up to provide a complete single-vendor solution with simpler operation, higher durability, and superior imaging. The F2160 is Epson's latest generation Direct To Garment (DTG) printer. It features enhanced production flexibility, higher productivity, reduced maintenance, and a lower running cost. Optimised for customisation and value-adding on cotton based garments such as T-shirts, Polo tops, jeans and sweats, it will image onto a range of polyester sports and leisure wear, and can also be used for promotional and décor items including tote bags, tea towels and cushions. Prints can be made on pre-cut fabric or directly to finished garments with a heat press used to 'fix' the dye. The printer can be ordered in a 4 colour configuration for high speed volume production as well as a 5 colour configuration for flexible CYMK + white work. Hardware is covered by a comprehensive on-site warranty with service cover extendable up to three years.

The SC-F2160 uses advanced Epson UltraChrome® DG ink and our latest PrecisionCore™ print head technology. The print head supports resolutions of up to 1440 x 1440 dpi for exceptional precision and consistency. Enhanced imaging and positional adjustment has enabled improved print quality. Ink consumption has been reduced and density is adjustable to enable variable levels of quality and finish.
FEATURES AT A GLANCE

Enhanced Productivity – faster frameless loading and an improved print speed. Produce a light coloured T-shirt in as little as 15 seconds and a dark shirt in as little as 52s1.
Enhanced Print Quality – finer height adjustment for improved ink application and upgraded VSDT (Variable Size Dot Technology) for superior imaging with reduced grain, an enhanced colour gamut and smoother gradation.
Enhanced Functionality – supplied complete with imaging software. New features enable more flexible editing and arrangement, addition of customised text, and presentation/ finish adjustment.
Enhanced Reliability – upgraded head design and improved ink management system. Backed with a comprehensive 'Heads-N-All' on-site warranty with cover extendable up to THREE YEARS.2
Reduced Operational Cost – reduced ink consumption and new Self-Washing Capping System with dedicated cleaning cartridge for simpler operation and reduced maintenance.
Outstanding Flexibility – supports a wide range of fabrics containing a mix of natural and man-made fibers in thicknesses up to 25mm. Platen options support a variety of production applications and garment sizes/types. Ships in a choice of two configurations; High Speed 4C for high volume production on light coloured fabric and 5C for flexible production on a mix of light and dark coloured fabric.3
Easy to Install & Operate – simple set-up with a small footprint and all-front-loaded consumables. Features auto height sensing / checking and a large colour LCD control panel with in-built help and improved thumbnail viewer.




Epson UltraChrome DG Ink is optimised for fabric with a moderate to loose weave and 50% or more cotton content. When used in conjunction with the appropriate Epson pre-treat it will adhere to garments containing a range of single and multiple fibre contents including polyester. It produces images with a low tack finish and good UV/wash durability. The ink and Pre-Treatment liquids feature low toxicity, when applied to fabric and appropriately fixed they conform to the latest Oeko-Tex Eco Passport® standard with garments safe for use by adults, children and babies.3 & 4Quality Results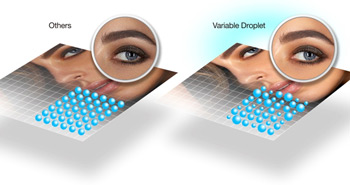 Epson UltraChrome DG Ink was developed to support fabric with a 50% or greater cotton content. It adheres well and fixes easily for images with a low tack finish that have good UV/wash durability. Both the ink and Pre-Treatment liquid when applied to cotton fabrics conform to the latest Oeko-Tex Eco Passport® standard with garments safe for use by adults, children and babies.4

Easy to Install and Operate
Direct To Garment printing replaces the complex, messy and time consuming process of traditional screen printing with a fast, flexible, and repeatable digital solution. Artwork can be created using a range of readily available drawing and photo editing programs before being printed directly to one, two or a hundred pieces of clothing. The SureColor F2160 can be ordered in two configurations; 4C Colour Only, or 5C Colour with White. The 4C configuration is extremely simple to use and fast to operate. It is designed for output on light coloured fabric and suits high speed commercial production as well as ad-hoc in store customisation. The 5C configuration offers increased production flexibility with additional white ink that can be applied as a separate colour, or as a base for CYMK prints on darker fabric.3

The Epson F2160 features a removable platen with new user-replaceable grip pads that facilitates faster and easier frameless loading5. Height adjustment has been enhanced with finer adjustment for superior print quality. An integrated optical (LED) height sensor helps protect the mechanism against incorrect loading while the head has been upgraded with an integrated fluff collector for improved reliability and reduced spoilage. The head is self-cleaning and operates with a new self-washing capping system for reduced maintenance and wastage. The printer features a large front panel colour LCD complete with integrated help and a QR-Code that links to videos that provide further assistance. The printer ships with upgraded Epson Garment Creator software that includes features to enable the combination of multiple images, the insertion of customised text, and adjustment of the image finish (faded, standard, and vivid).

Flexible and Economic to Run
The SC-F2160 in 4C configuration will print a full sized T-shirt in 9-15s while the 5C configuration will complete a multi-pass print in 52-87s. It ships complete with a standard sized platen to enable a single operator to produce standard adult t-shirt sizes as well as common merchandise items. Additional platens can be ordered separately to suit work environments with multiple operators and separate preparation, pre-treatment and/or fixing stations. Optional platens are also available to suit oversized garments, garments with zippers & buttons, child sizes, sleeve and pocket panels.

The F2160 was designed to ensure enhanced reliability with a reduced running cost. It consumes the minimum amount of ink to complete each print job while achieving optimum detail, colour, and brightness. The printer incorporates an upgraded re-circulation system that manages the sedimentation inherent with white ink (5C configuration) while ensuring minimum workflow disruption. The printer is shipped with a comprehensive 1 Year Warranty backed with free on-site repair and cover that can be extended up to 3 Years.2
1 Figures are based on print speed only for a printer in 5c configuration outputting a landscape image 254x203mm on a T-shirt in Production or Fast Production mode using Epson Garment Creator. The printer supports a range of print modes to suit different workflow, application, and quality requirements; customers are recommended to check with their dealer on which mode is appropriate to their individual need and the consequential speed that can be achieved. It should be noted that actual print times will vary depending on a range of variables including the printer configuration, image size & type, print mode, software selection, PC specification, and networking configuration. It should also be noted that addition time will be required for garment pre-treatment, loading, flattening, unloading & fixing.
2 In the situation where a hardware repair is required Epson will perform this free on-site within greater metro locations (regional locations may attract travelling charges). Cover can be extended up to a maximum of 3 years through the purchase of optional CoverPlus. Cover is subject to a range of conditions; please refer to the specification page of this web site for further information.
3 It is important to discuss fabric, production and operational requirements with Epson and/or your dealer prior to purchase. While the printer supports a wide range of fabric types (including single, bi, and tri-mixes), not all material is suitable. Ink will not adhere to fibers with a very smooth finish, fabrics with fine weaves, water &/or dirt resistant coatings. Different fabrics require different pre-treatment processes and ink application levels that have an impact on production times and costs. Once the printer has been installed and initialised it is not possible to change the base configuration (4c/5c). If the machine has been configured for 5c it is however possible to temporarily replace the white ink cartridges with cleaning carts to minimise maintenance and wastage during periods of low production.
4 ECO PASSPORT by OEKO TEX® is an international standard for the textile industry system. It enables suppliers to demonstrate that products can be used in sustainable textile production. For further information please see the OEKO-TEX web site.
5 The printer supports standard frame based loading. Platen Grip pads can optionally be applied to the Large, Standard and Small platens to enable faster frameless loading and setting. The Grip Pads are user replaceable to allow for issues involved with wear, grime and ink bleed.
6. printer price does not include shipping, installation, training and support on-site, prices for shipping, installation, training and support on-site are quoted separately on application terms and conditions apply.