Home

/

Smart Shooter 4 - Professional Edition - Digital Download
Smart Shooter 4 - Professional Edition - Digital Download
30.SMRTPRO
Product Features:
Supports Canon, Sony and Nikon Cameras
Mac and Windows support
High-performance tethering engine
Exceptional reliability
Automatic download and display
Shoot to camera card, computer or both
Supports RAW and JPG
Live View display including overlay mode
Create Your Own Scripts
Multi-Camera Control
Smart Shooter 4 - Professional Edition - Digital Download
Essential Add-On's we recommend
Description
The Best Tethered Capture Utility Just Got Better
Activation code will be emailed to you.
NOTE: Digital Download Purchase
*This item is non-cancelable and non-returnable
During the trial period, all features of the app are unlocked. Once the trial time period has expired, the software will become locked. To simply unlock it, you will then need to purchase a license. Once you have purchased a license, you can unlock the software again using the license key. For instructions on how to do this, please refer to the Registration Documentation.
https://tethertools.com/product/smart-shooter-4/#specs
Key Features:
Supports Canon, Sony and Nikon Cameras
Mac and Windows support
High-performance tethering engine
Exceptional reliability
Automatic download and display
Shoot to camera card, computer or both
Supports RAW and JPG
Live View display including overlay mode
Control your camera remotely from your Mac or PC
Remote camera control via USB cable
Full control of camera settings
Photo download and display on Mac or PC
Real time zooming/panning photo display
Live View display including overlay mode
Live View recording of each frame to JPG file
Bulb shooting with timed exposure
Automatic control via scripting
Tethered shooting with automatic download and preview
Multi-camera tethering and control
Smart Shooter works with Canon, Sony and Nikon cameras.
Smart Shooter 4 provides tethered capture for most Canon, Sony and Nikon cameras utilizing a reworked user interface, to provide speed and performance for your tethering needs. Backed by Tether Tools support, we believe Smart Shooter 4 is the best in class tether utility.
Smart Shooter 4 allows you to fully control your camera from your Mac or PC, giving you freedom to explore and experiment to help make the perfect picture. Automatic download and display means you can fully evaluate your photos in seconds, and real time live view output will help you focus and compose the scene. Scripting language lets you control your camera, allowing you to take multiple photos with varying settings just by clicking a single button.
Smart Shooter 4 is aimed at both the professional and amateur photographer.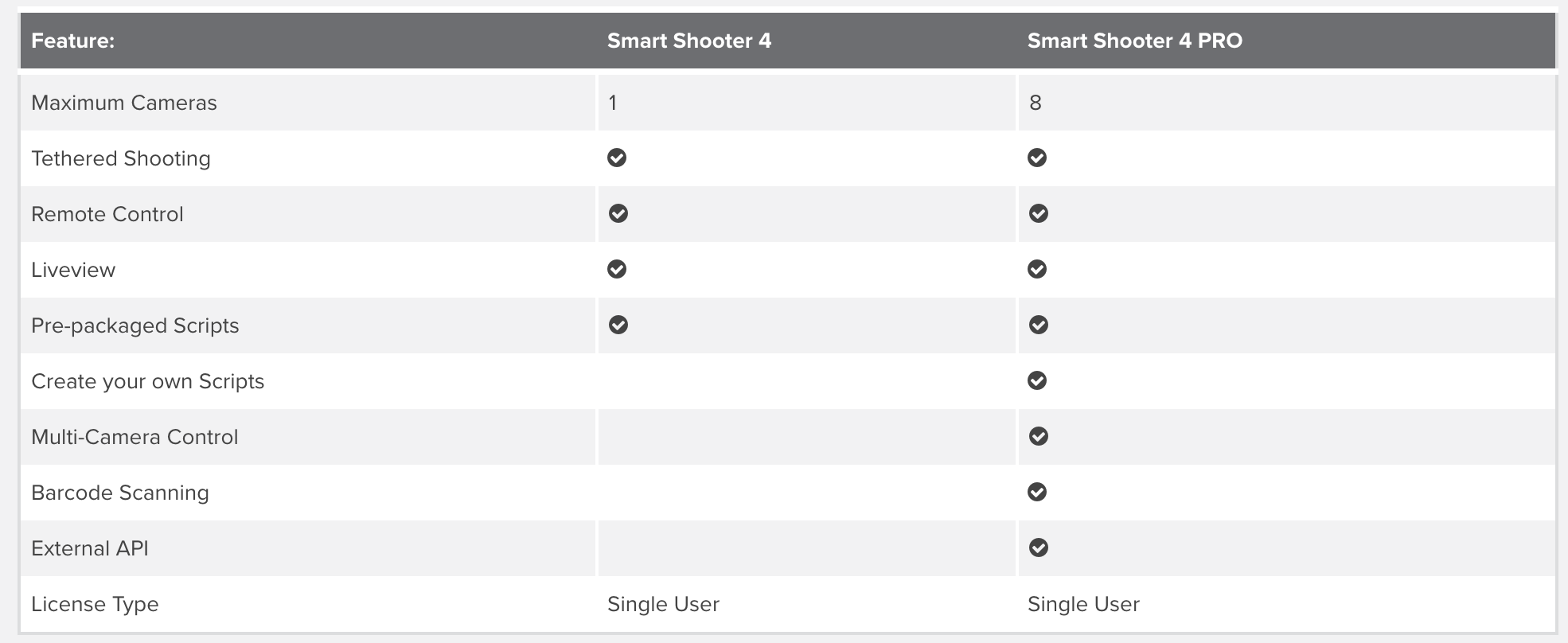 Live View Display with Overlay
If you camera supports Live View, then Smart Shooter can display the Live View image in realtime on the PC. You can also change the transparency of the Live View image so it is displayed as an overlay over the last taken photo.
Live View Recording
Each frame of the Live View output can be saved to a JPG file on the PC.
Real-time Zooming and Panning
Smart Shooter can automatically download and display the last taken photo. The photo display software uses GPU hardware acceleration, so you can immediately check the photo by zooming and panning in realtime on you PC using the mouse.
Tethered shooting with automatic preview
You can continue to use you camera manually whilst is is connected to the computer. Each time you take a photo, Smart Shooter will download it and display it on the screen.
Automatic Control via Scripting
Smart Shooter can be driven from a script, giving you the ability to change camera settings and control when photos are taken. This allows you to take a series of different photos without manual operation of the camera or PC.
Connect and Control Multiple Cameras
Smart Shooter allows you to connect multiple cameras to you PC at the same time. The interface allows you to select which camera is currently being controlling and hence will be affected by changes to settings and other commands.
Supported Platforms
Smart Shooter is compatible with Mac and Windows:
Windows 7 (64bit) and above
Mac OS X 10.12 (Sierra) and above
Canon

Canon 5Ds

Canon 5Ds R

Canon EOS 1000D

Canon EOS 100D

Canon EOS 1100D

Canon EOS 1200D

Canon EOS 1300D

Canon EOS 1D C

Canon EOS 1D Mark IV

Canon EOS 1D X Mark II

Canon EOS 1Ds Mark III

Canon EOS 200D

Canon EOS 40D

Canon EOS 450D

Canon EOS 500D

Canon EOS 50D

Canon EOS 550D

Canon EOS 5D Mark II

Canon EOS 5D Mark III

Canon EOS 5D Mark IV

Canon EOS 600D

Canon EOS 60D

Canon EOS 650D

Canon EOS 6D

Canon EOS 6D Mark II

Canon EOS 700D

Canon EOS 70D

Canon EOS 750D

Canon EOS 760D

Canon EOS 77D

Canon EOS 7D

Canon EOS 8000D

Canon EOS 800D

Canon EOS 80D

Canon EOS 9000D

Canon EOS Kiss F

Canon EOS Kiss X2

Canon EOS Kiss X3

Canon EOS Kiss X4

Canon EOS Kiss X5

Canon EOS Kiss X50

Canon EOS Kiss X6i

Canon EOS Kiss X7

Canon EOS Kiss X70

Canon EOS Kiss X7i

Canon EOS Kiss X8

Canon EOS Kiss X80

Canon EOS Kiss X8i

Canon EOS R

Canon EOS Rebel SL1

Canon EOS Rebel SL2

Canon EOS Rebel T1i

Canon EOS Rebel T2i

Canon EOS Rebel T3

Canon EOS Rebel T3i

Canon EOS Rebel T4i

Canon EOS Rebel T5

Canon EOS Rebel T5i

Canon EOS Rebel T6

Canon EOS Rebel T6i

Canon EOS Rebel T6s

Canon EOS Rebel T7i

Canon EOS Rebel XS

Canon EOS Rebel XSi

Nikon

Nikon D3

Nikon D300

Nikon D3000

Nikon D300s

Nikon D3100

Nikon D3200

Nikon D3300

Nikon D3400

Nikon D3500

Nikon D7500

Nikon D3s

Nikon D3X

Nikon D4

Nikon D40

Nikon D4s

Nikon D5

Nikon D500

Nikon D5000

Nikon D5100

Nikon D5200

Nikon D5300

Nikon D5500

Nikon D5600

Nikon D60

Nikon D600

Nikon D610

Nikon D700

Nikon D7000

Nikon D7100

Nikon D7200

Nikon D750

Nikon D80

Nikon D800

Nikon D800E

Nikon D810

Nikon D850

Nikon D90

Nikon DF

Nikon Z6

Nikon Z7
Sony

Sony a6000

Sony s6100

Sony a6300

Sony a6400

Sony a6500

Sony a6600

Sony a7

Sony a7 II

Sony a7 III

Sony a7R

Sony a7R II

Sony a7R III

Sony a7R IV

Sony a7S

Sony a7S II

Sony a9