Home

/

Epson Surecolor F6360 Dye Sub Printer 1Yr Warranty
Epson Surecolor F6360 Dye Sub Printer 1Yr Warranty
95.1.SCF63601Y
Product Features:
Superior Quality heat-free Print Head
Superior Reliability
High Productivity - Very Fast
Ultra-Low Running Costs
Epson Surecolor F6360 Dye Sub Printer 1Yr Warranty
Essential Add-On's we recommend
Description
Why You

Should

Buy From Kayell Australia

Kayell Australia is one of the largest and most experienced professional imaging solutions providers in Australia. With a large team of skilled staff across the eastern seaboard of Australia we can offer on-site, in-store and phone assistance on all aspects of the printing process associated with Fine Art Reproduction, Photography and the Graphic Arts businesses.

As one of the few exclusive Epson Premium Platinum Partners, we have the Presales and Post Sales abilities to provide you with the best possible solution and support for all your printing needs. Additional to the printing process, we also offer a huge range of consumables to suit all types of printers and the staff to implement the workflows and colour management to all the products we distribute and sell thru our retail outlets.

Ask just about anybody and they will know of us or have purchased from us, with over 50 years in business this year, our staff and reputation are unmatched.
---
When the Epson SureColor Fabric DS series was first released it represented a revolution; designed from the ground up for Dye Sublimation, it provided one of the first turn-key single-vendor production platforms. Today it continues to lead the way with superior and consistent image quality, simple and reliable operation. The F6360 suits of a wide range of production applications including customised garments and fabrics, hard and soft signage, décor and merchandise. It combines an ultra-low running cost with a high production speed, and flexible output in either sheet or roll format in widths up to 44". Prints are made on paper which is then transferred (sublimated) via a heat press onto material with a polyester base or polyester pre-treatment.

The SC-F6360 is designed for low-medium production volumes. It combines a high-precision Epson print head with advanced Epson Dye Sublimation ink, a Continuous Ink Supply System (CISS), and a proven print engine. The print head and ink work together to enable superior imaging with fine gradation, an expanded gamut, and high colour density. The engine and supply system enable cost-effective production at speeds up to 30.4m2/hr. The integrated autocutter enables cut-sheet output for operation with a flat heat press while an optional Auto-Take-Up (ATU) enables fast and efficient roll-to-roll production for operation with a calendar style heat press.
FEATURES AT A GLANCE

Superior Quality

– uses an Epson heat-free PrecisionCore™ (TFP) Print Head with Epson UltraChrome™ DS ink to achieve superior and consistent colour at resolutions up to 720x1440dpi, employs Epson Precision Dot Technology to enable fine gradation and an expanded gamut with low grain and minimum ink consumption

Superior Reliability

– supplied with a single-source manufacturer warranty that can be augmented with additional CoverPlus for comprehensive investment protection and cost minimisation up to FIVE years complete with on-site service1

Superior Flexibility

– supports rolls from 10" to 44" (1118mm) wide3, provides a range of print speeds and print modes to suit different production and output requirements, choice of Standard Black ink for hard surface work and High Density Black for fabric2

High Productivity

– sellable fabric production at up to 30.4m2/hr and hard surface production at up to 10.6 m2/hr, 6L CISS, spindle-less roll media loading, integrated high-speed auto-cutter for sheet based output, and optional ATU for roll-to-roll production3

Ultra-Low Running Costs

– extremely low power consumption with cost-effective roll based media and 1.1L ink refills, 2L re-usable waste tank, minimum operator management with remote status notification

Easy to Operate

– all front-loaded consumables, large LCD control panel with in-built help, enhanced user self-maintenance with QR-Code video assist, ships with Epson Edge Print software, downloadable print profiles, and can be used with alternative RIP software

Easy to Install

– designed for user self-set-up, runs off a standard power supply, is extremely compact and can be operated against a wall or in a corner with USB or Ethernet connection1

QUALITY RESULTS AT HIGH SPEED
The SureColor F6360 is built on a robot-assembled chassis that is laser welded for exceptional strength and rigidity. This precision construction enables outstanding print and production speeds with minimum movement and noise. It incorporates Epson's advanced heat-free PrecisionCore™ Thin Film print head with micro-fine nozzles that support adjustable high resolution imaging with pin-point positional accuracy and outstanding uniformity. Variable-size Droplet Technology enables enhanced half-tones and precise ink density control for superior results with minimum consumption. The printer has a standard print mode for normal high speed output and a HQ MODE for premium solid surface work with super-fine detail and exceptional colour gradation.

Epson UltraChrome DS Ink is designed to enable production of a wide range of goods from material and clothing, to soft signage and banners, customised surface treatments and merchandise. It provides vibrant and intense colour that adheres quickly, transfers smoothly and provides excellent light and wash fastness. When used in conjunction with the hardware for which it was developed, it produces superior output with lower production costs, and enhanced mechanical durability. The ink is resistant to damage through abrasion and perspiration. When applied to polyester fabrics it conforms to the latest Oeko-Tex Eco Passport® standard with products certified safe for use by adults, children and babies4. It supports a wide range of common low-cost transfer media and for premium work Epson offers a range of quality papers. Printers can be configured with a flexible Bk or high performance HDk ink set. The HDk set incorporates a special black with increased particle density and an extremely neutral tint for superior colour precision and intensity with additional opportunity for reduced ink consumption.2

FLEXIBLE WORKFLOW
The SureColor F6360 is small and compact with a footprint that is just 1.8m2. All consumables are front loading and it features fast spindle-less media mounting that can be managed by a single operator. It ships with a set of media adaptors that support rolls with either 2" or 3" cores in widths from 10" to 44". Additional adaptor sets can be purchased separately to facilitate rapid exchange in environments when multiple stocks &/or media sizes need to be used. For operation with a flat sheet heat press the printer incorporates a high speed rotary cutter with selectable manual and automatic operation. For fast and efficient roll-to-roll operation in conjunction with a calendar style heat press an optional Auto Take Up is available. 1 3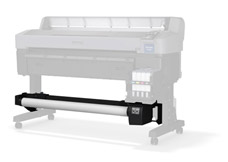 The Epson DS Fabric series has been designed for consistent, reliable and cost-effective operation. The F6360 features a Continuous Ink Supply System with enlarged easy-fill holes and 1.5L tanks. Each tank incorporates a buffer for resource scheduling and can be refilled while printing continues using inexpensive 1.1L packs. The printer incorporates an e-mail system which can be configured to send status and error notifications to operators located on and/or off-site. The printer can be managed via a front panel LCD with in-built help, or remotely via simple and powerful utility software. The engine features extremely low power consumption with sleep and stand-by modes to further reduce costs in environments with fluid workflow.
EASY TO INSTALL & CONFIGURE
Dye sublimation offers significant benefits over traditional screen printing. Digital image processing enables easier image creation and editing, more output control, and more flexible production with superior consistency. It is considerably quicker and less expensive for short to medium production runs, requires less labour, involves less materials, and less wastage. Printing is mess free and production can occur in a relatively small amount of space. Job turnaround is faster and repeat runs can be undertaken at the push of a button. While the process generally only suits fabrics with a high polyester content, it can also be used with a range of other materials that will accept a polyester spray and withstand the heat + pressure of the transfer process. A wide range of products can be produced including fabric banners and metal signage, timber furniture finishes and sporting goods, phone covers and tablet cases, footwear ('thongs') and sportswear, wall decorations and home décor.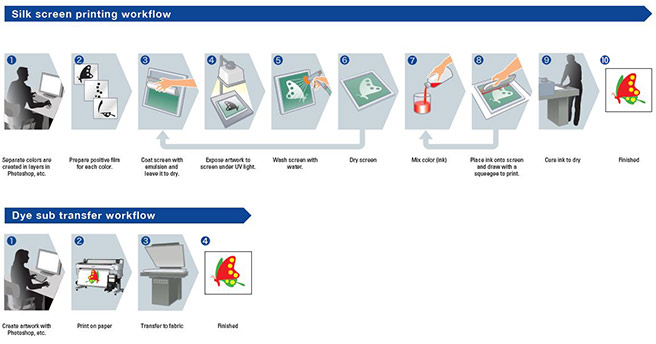 The SureColor F6360 runs off a standard 240V power supply and can be driven by a moderately powered PC. The printer ships complete with Edge Dashboard software that enables rapid set-up and easy management with access to downloadable media profiles. It also ships with powerful Epson Edge Print software that enables production of quality material with outstanding colour, precision and consistency. It is built on an advanced Adobe Postscript engine that supports source files in PS, EPS, PDF, TIFF, JPEG and PNG formats. It provides basic functions such as copy, position, trim and nest, as well as advanced functions such as tiling, step and repeat. Unlike traditional RIP software that can often be difficult to use, it features a simple interface that is designed to emulate the output so what you see on screen is what you get from the printer.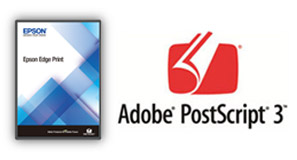 ---
1 A PC with reasonable processing power, memory, storage, and networking facilities will be required. Epson Edge Print is a Windows only application. The independent sourcing of appropriate transfer equipment will be required. The use of an external radiant based heater system is recommended for operation at high speed, with heavy ink loads, &/or with the optional ATU. After-sales service is co-ordinated by Epson in conjunction with our Authorised Reseller network. Service may be restricted or limited when equipment is used outside of specification &/or with non-Epson consumables. For full details on coverage, terms and limitations please refer to our warranty statement
2Printers can be configured with either a Bk or HDk ink set. The Bk set features C, Y and M inks with outstanding gamut and durability combined with a flexible low-maintenance Black ink. The Bk set is particularly suited to merchandise and solid surface imaging but can also be used for fabric work. The HDk set features the same C, Y & M inks with an enhanced Black. The HDk set is designed for fabric and soft signage production where it produces output with unparalleled colour intensity and precision. Due to its high pigment level HDk ink offers added opportunities for reduced ink consumption. HDk ink is not recommended for operation in the HQ Mode or in environments with low/ inconsistent print volumes, it requires an increased level of maintenance as well as careful storage and rapid consumption. Discussion with your dealer is recommended before selection.
3The optional ATU requires operation with roll based media from 17" (432mm) to 44" (1118mm) wide, 13kg max weight.
4ECO PASSPORT by OEKO‐TEX® is an international standard for the textile industry system. It enables suppliers to demonstrate that products can be used in sustainable textile production. For further information please see the OEKO-TEX web site.