Home

/

Epson Surecolor F560 Dye Sub Printer 1Yr Warranty
Epson Surecolor F560 Dye Sub Printer 1Yr Warranty
95.1.SCF5601Y
Product Features:
Superior Quality
Superior Reliability
Superior Flexibility
High Productivity
High Productivity
Low Running Costs
Epson Surecolor F560 Dye Sub Printer 1Yr Warranty
Essential Add-On's we recommend
Description
Why You

Should

Buy From Kayell Australia

Kayell Australia is one of the largest and most experienced professional imaging solutions providers in Australia. With a large team of skilled staff across the eastern seaboard of Australia we can offer on-site, in-store and phone assistance on all aspects of the printing process associated with Fine Art Reproduction, Photography and the Graphic Arts businesses.

As one of the few exclusive Epson Premium Platinum Partners, we have the Presales and Post Sales abilities to provide you with the best possible solution and support for all your printing needs. Additional to the printing process, we also offer a huge range of consumables to suit all types of printers and the staff to implement the workflows and colour management to all the products we distribute and sell thru our retail outlets.

Ask just about anybody and they will know of us or have purchased from us, with over 50 years in business this year, our staff and reputation are unmatched.
---
The Epson SureColor DS series has long offered a superior production platform; developed from the ground up for Dye Sublimation, it combines superior image quality, better colour, lower running costs, and higher reliability, all backed with a comprehensive factory warranty. The F560 takes the concept further with a low-cost package that provides a total imaging solution complete with software, ink and media. Designed for custom merchandise and décor production, it is also suited to photo imaging, hard signage, and even small fabric applications. It features a compact design with flexible media support, and a Continuous Ink Supply System (CISS). Prints are made on paper which transfers (sublimates) via a heat press onto material with a polyester base or polyester pre-treatment.

The SC-F560 is designed for an ad-hoc workflow and low production volumes. It features the latest Epson print head technology and has a media handling system that supports operation with sheet and roll stocks. It uses advanced Epson Dye Sublimation ink that is loaded into a small tank system using inexpensive bottles. The print head and ink work together to enable outstanding image quality with fine gradation, a wide gamut, and high colour density. The engine supports production speeds up to 21m2/hr while an integrated auto-cutter enables sheet-based output for operation with a wide variety of inexpensive 3rd party heat presses.
FEATURES AT A GLANCE

Superior Quality

– latest heat-free Epson PrecisionCore™ (TFP) print head and UltraChrome™ Dye Sub ink for precise imaging with superior colour at resolutions up to 2400x1200dpi, Epson Precision Dot Technology for prints with fine gradation and an expanded gamut with low grain.

Superior Reliability

– designed to minimise dust and moisture intrusion, print head has an integrated crash guard, supplied with a comprehensive single-source manufacturer warranty augmented with optional CoverPlus for up to 3 years protection complete with on-site service1

Superior Flexibility

– supports rolls up to 24" (610mm) and multipage A4/A3 sheet feeder with auto-switching, offers a range of print modes to suit different production and output requirements.

High Productivity

– produce an A4 print for rigid sublimation or A1 for fabric in around a minute, tank-based ink system can be refilled while printing is underway; incorporates an auto-cutter.

High Productivity

– produce an A3 print for rigid sublimation or A1 for fabric in around a minute, ink tank system can be refilled while printing is underway; incorporates an auto-cutter.

Low Running Costs

– low power and ink consumption, ink tanks refilled using inexpensive bottles, ships with Epson Accounting software for job costing1

Easy to Install

– compact design, desktop mountable, ships with media and over 1L of ink, optional floor stand with media basket, simple setup, flexible WiFi/Ethernet/USB networking

Easy to Operate

– all top-loaded consumables, large touch-panel display with in-built help, advanced driver enables operation with standard graphic software, optional high-precision Epson Edge Print software available FREE to registered owners in Australia & New Zealand1 2

OUTSTANDING QUALITY
The SureColor F560 incorporates an Epson heat-free PrecisionCore™ Thin Film print head with micro-fine nozzles that enable ultra-high resolution imaging with pinpoint accuracy. Driven by Epson Precision Dot Technology it facilities precise and predictable colour with superior density, and enhanced tonal expression. The printer has a range of print modes to suit different quality levels, production speeds, and sublimation media types. It suits a wide range of applications including art and photography, hard and soft signage, short run merchandise and décor, custom fabric and clothing.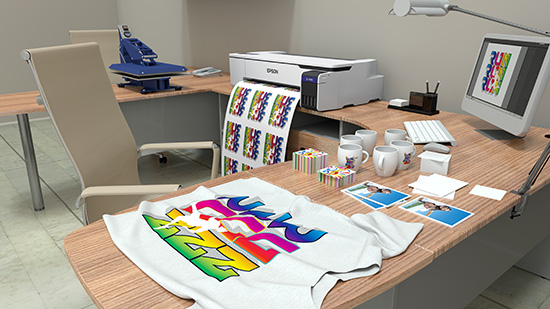 The SC-F560 uses a simple 4 colour imaging system. The advanced UltraChrome Dye Sub ink works in conjunction with the print head to produce superior output with a lower production cost and enhanced mechanical reliability. When sublimated it produces a colour gamut that is equal or better than competing solutions with many more colours. It produces images with outstanding light and wash fastness, that are resistant to damage through abrasion and perspiration. When applied to polyester fabrics, the material conforms to the latest Oeko-Tex Eco Passport® standard and certified safe for use by adults, children and babies.2 3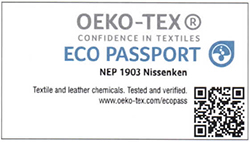 FLEXIBLE WORKFLOW
The SureColor F560 is extremely compact with a footprint that is just 0.5m2. It can be mounted on a desk with single page prints held on exit to minimise mess and spoilage. It can also be floor mounted via an optional stand that incorporates a media basket for multi-page work. It supports both sheet and roll media with a convenient A4/A3 multi-sheet feeder and auto-switching. It ships with a spindle that supports roll media up to 24" (610mm) wide. Additional spindles can be purchased separately to facilitate easy storage with rapid roll exchange. The printer is designed to be operated in conjunction with a flat sheet or specialty merchandise heat press and incorporates a rotary auto-cutter with selectable manual and automatic operation.1

The Epson DS Fabric series has been designed for reliable and cost-effective operation. The F560 features a Continuous Ink Supply System (CISS) that can be refilled while printing is underway using inexpensive 140ml bottles. The printer can be managed via a front panel LCD with in-built help, or from a PC or Mac using the supplied driver and utility software. The engine features extremely low power consumption with sleep and standby modes to further reduce costs.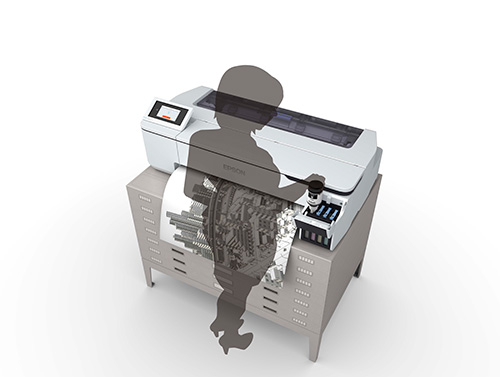 EASY TO INSTALL & CONFIGURE
Dye sublimation is designed to replace traditional screen printing. It is considerably simpler and less expensive for short to medium production runs with less labour, less materials, and less wastage. Digital imaging enables easier content creation and editing, more accurate and flexible reproduction. Production is mess-free and requires less space. Job turnaround is faster with accurate repeats able to be created at the push of a button. The process suits imaging onto fabric with a high polyester content and hard surface materials that will accept a polyester spray and withstand a moderate amount of heat and pressure. A wide range of products can be produced, including fabric banners and metal signage, custom cabinetry and sporting goods, phone covers and tablet cases, footwear ('thongs') and sportswear, wall decorations and home décor.

The SureColor F560 runs off a standard 240V power supply and can be driven by a PC of moderate specification. The printer ships complete with ink and media. It also ships with a driver that enables operation with standard graphic software. Additional Epson Accounting software assists with cost control while optional Edge Print software enables enhanced high-precision production with PostScript control.1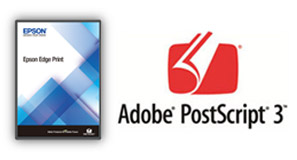 ---
1 A PC with moderate specifications, appropriate graphic software, a suitable sublimation device, and compatible output media will be required to enable production; customers are recommended to speak with their Authorised Epson Large Format Fabric Dealer for details and options. Some software is Windows only and some applications may require internet access for download, registration, &/or periodic update. Customers who purchase a printer sourced through Epson Australia will be provided the printer and an additional ink/media pack. They are also eligible for a FREE copy of Epson Edge Print conditional on product registration (Note: software is due for release late 2019/early 2020 and will be mailed to registered owners). After-sales warranty and CoverPlus service is subject to a range of terms and conditions including operation within mechanical life ratings, the use of correct and genuine consumables; please see the specs page and warranty page for further information.
2Dye Sub ink is relatively delicate prior to sublimation and needs to be handled with care. Please see the specs page for further information.
3ECO PASSPORT by OEKO‐TEX® is an international standard for the textile industry system. It enables suppliers to demonstrate that products can be used in sustainable textile production. For further information please see the OEKO-TEX web site.