SmallHD 1703 P3 Production Monitor
33.1.MON-1703P3
Product Features:
100% DCI-P3 Colour Gamut
Studio Brightness
HDR Preview
17 10-bit display
Image quality that rivals OLED type monitors
Wide Viewing Angle
Dual SDI In/Out
SDI/HDMI Cross Conversion
Best-in-class 3D LUT integration
SmallHD 1703 P3 Production Monitor
Essential Add-On's we recommend
Description
The new 1703 Wide Colour Gamut P3 Production Monitor is the world's most rugged 17" monitor with astounding colour accuracy. This monitor is perfectly engineered for production and post-production use.
Pagebuilder OS
All SmallHD monitors whether On-Camera or Production are equipped with the powerful and easy to use Pagebuilder Operating System.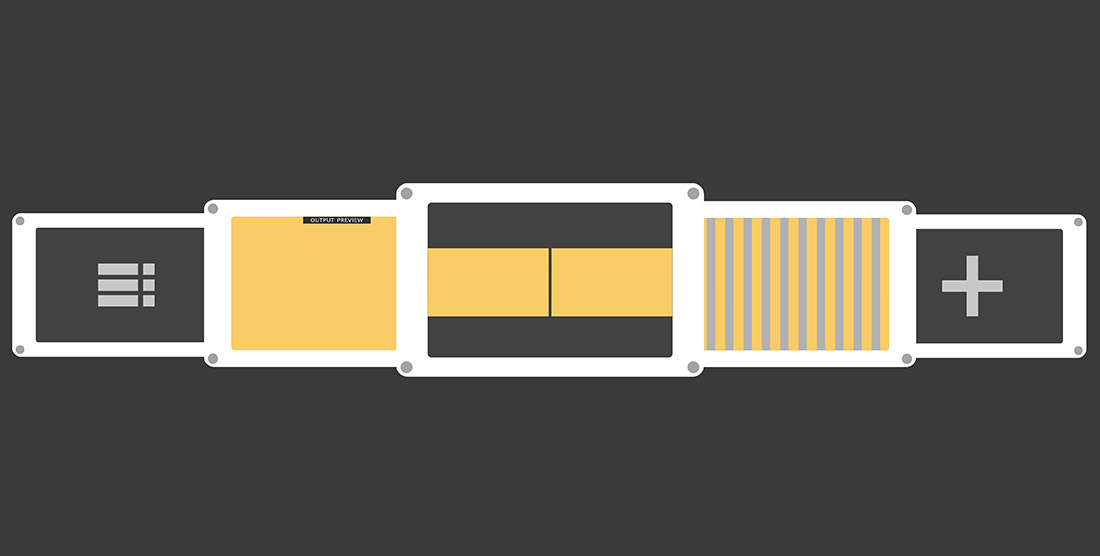 Reference Grade Cinema Colour
Each 1703-P3 monitor comes pre-calibrated for DCI-P3 mastering, Covering 100% DCI-P3 with a Delta E average of 0.8. Easily install your own 3D LUT calibration with advanced colour management solutions like Light Illusion's, LightSpace CMS, or SpectraCal's CalMAN. Load any 3D LUT via SD card using SmallHD's ColorFlow 3D LUT engine.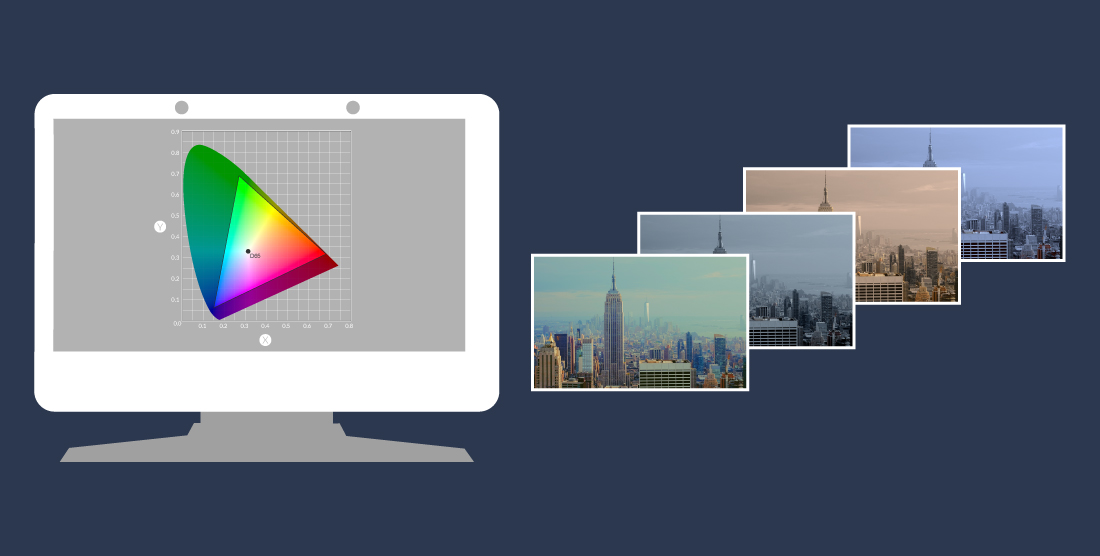 Software that Eliminates Hardware
Pagebuilder OS enables you to send your video signal downstream via the Output Preview page. Any LUTs applied to the Output Preview page will also be mirrored downstream. Easily convert HDMI/SDI signals with Cross Conversion .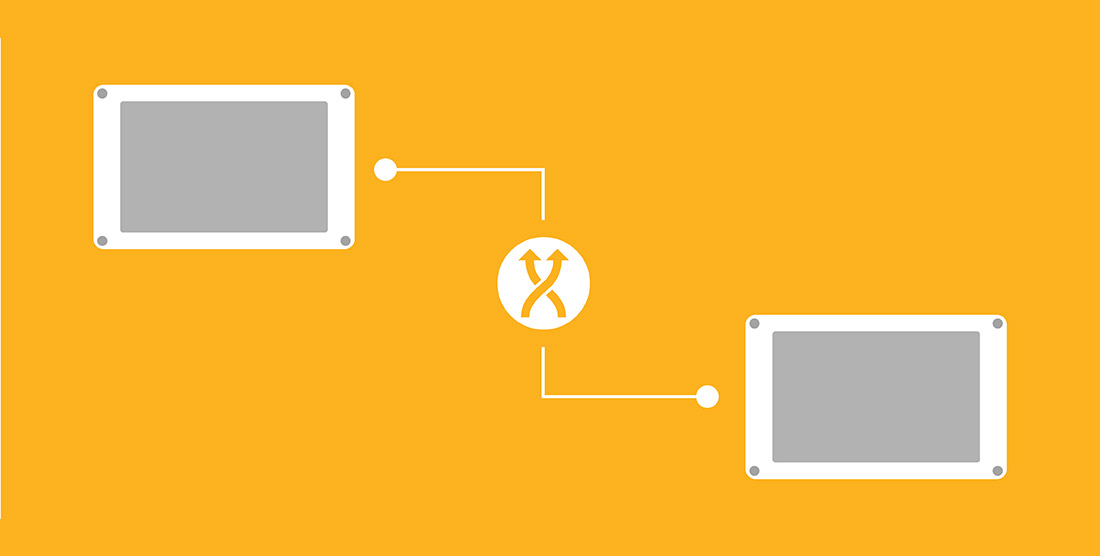 HD Scopes with Pixel Accurate Data Analysis
Display up to three, fully customisable Scopes on screen at a time. Utilise Colour Picker to show raw pixel values from the displayed video.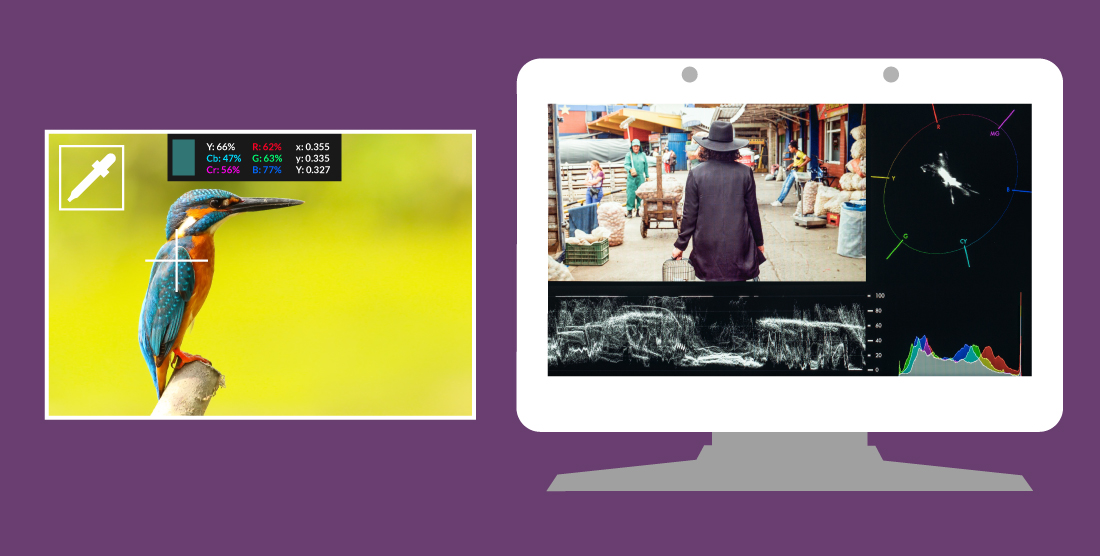 Expose with Confidence
Exposure Assist supports both ARRI and Spectrum based false colour, with built in IRE guides for reference. Utilise 2x Zebra to warn you when reaching a brightness level of your choosing. This is great for matching exposure across shots and cameras.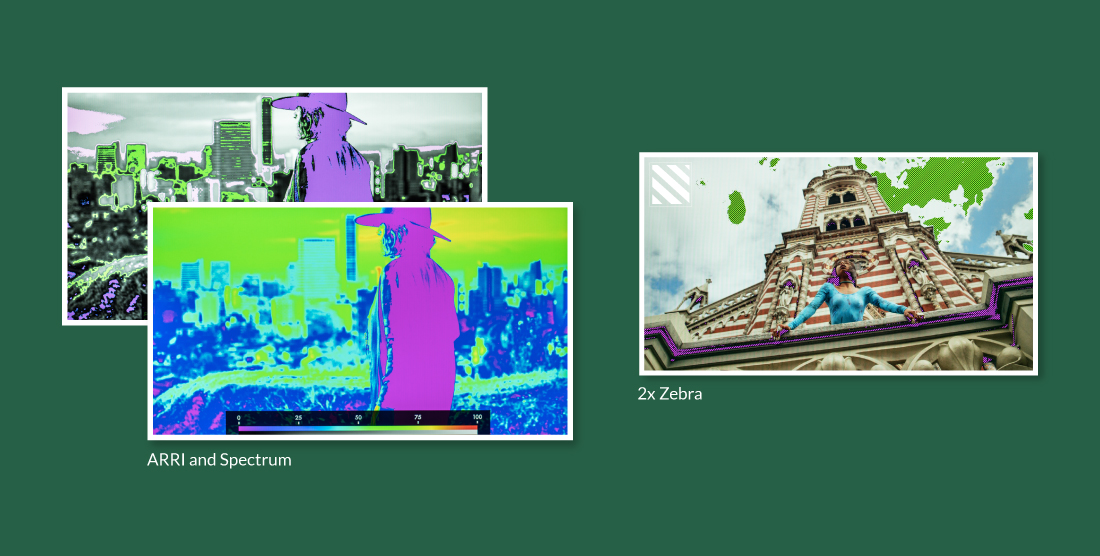 Dual View
Monitor two input sources simultaneously. You can apply LUT's and tools to each source individually. Great for monitoring A/B cameras or pre and post LUT footage. You can also apply tools to each page individually.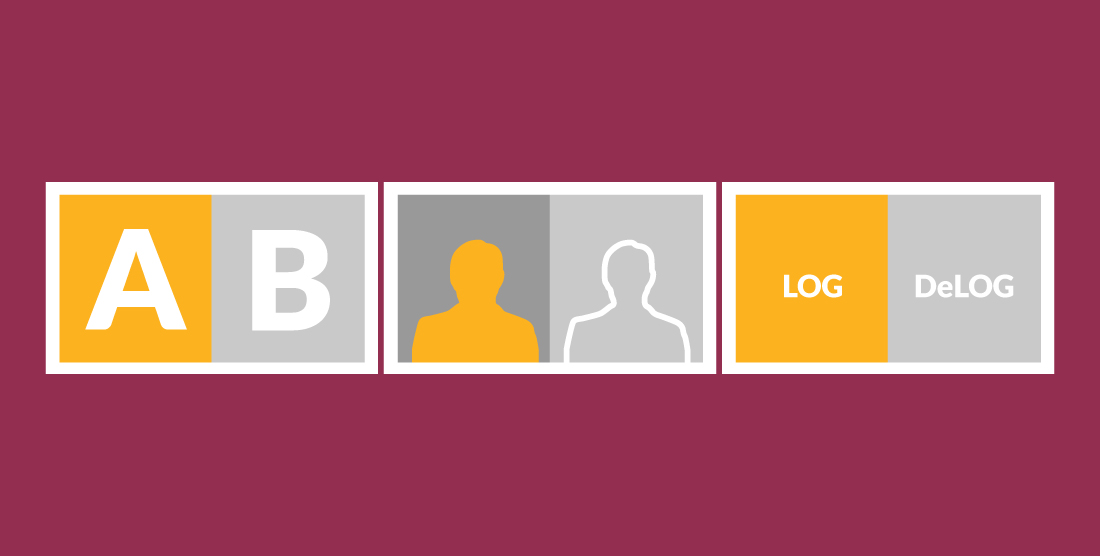 Custom Focus Assist and Peaking Tools
Focus assist creates a bright highlight on in-focus subject matter; highly recommended when focusing on the fly. Focus Peaking increases the image sharpness allowing more detailed focusing. Change your colour and intensity of your focus tools.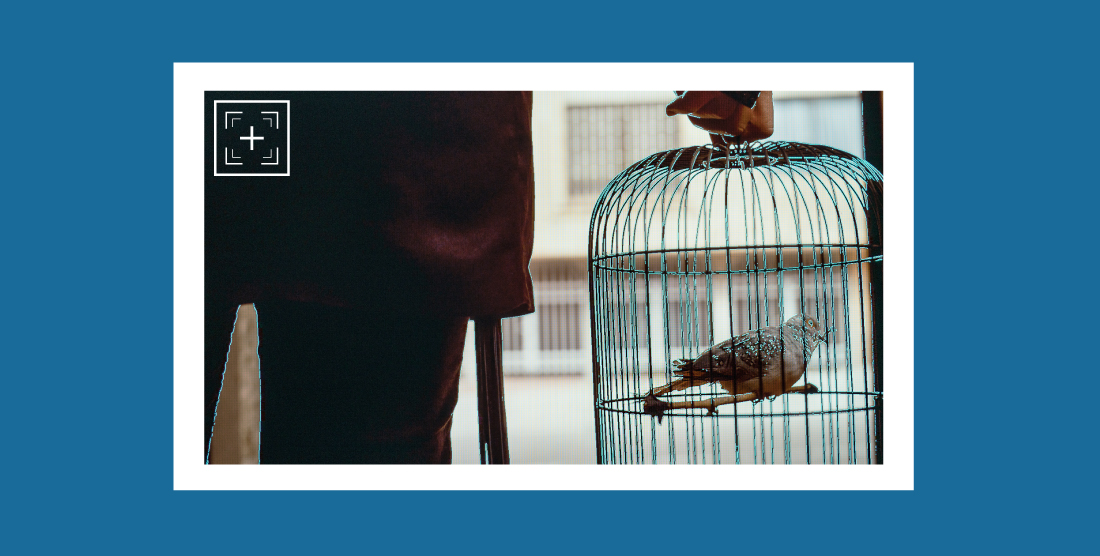 Versatile Image Framing
Select standard markers and safety areas that can be overlaid on the display as lines or matte overlays with custom opacity level and colours. Default aspect ratios include 4:3, 1.85, 2.39:1, 16:9 and Custom (user selectable).
Physical Features:
Durability
Rugged milled aluminium housing
VESA mounting
3/8" & 1/4" mounting points
Power options
V-Mount, Gold Mount, AC power
LEMO
Rapid Rail
Quickly attach wireless devices & accessories
Table to C-stand
Specifications:
Display
| | |
| --- | --- |
| Panel Type | IPS LCD |
| Size Diagonal | 17 |
| Resolution | 1920x1080 |
| Pixel Density (PPI) | 133 ppi |
| Aspect Ratio | 16:9 |
| Active Area | 16.52 |
| Brightness | 450 Nits |
| Contrast | 1500:1 |
| Colour Gamut | 100% DCI-P3 |
| Colour Depth | True 10 bit |
| Viewing Angle | 178 degrees Vertical and Horizontal |
| Backlight Type | White LED |
| Adjustable Backlight | Yes - 0 - 100 in 6 steps with 100-nit studio mode |
| Temperature Adaptive Colour | No |
Viewfinder (EVF)
| | |
| --- | --- |
| Diopter Range | |
| Effective Viewing Distance | |
| Variable Field of View | range |
| Height | |
| Width | |
| Depth | |
| Weight | |
| Construction Material | |
Input Signal Types/Formats
| | |
| --- | --- |
| 3G-SDI | YCC 4:2:2 @ 10bit: 1920x1080p60, 1920x1080p59.94, 1920x1080p50, 1080i60, 1080i59.94, 1080i50 |
| HD-SDI | YCC 4:2:2 @ 10bit: 1080p30, 1080p29.97, 1080p25, 1080p24, 1080p23.98, 1080psF30, 1080psF29.97, 1080psF25, 1080psF24, 1080psF23.98, 1080i60, 1080i59.94, 1080i50, 720p60, 720p59.94, 720p50, 720p30, 720p29.97, 720p25, 720p24, 720p23.98 |
| SD-SDI | YCC 4:2:2 @ 10bit: 480i29.97, 576i25 |
| HDMI | Supports YCC 4:2:2 @ 8 bits, 8/10/12 bit color in RGB & YCC 4:4:4: 1080p60, 1080p59.94, 1080p50, 1080p30, 1080p29.97 1080p25, 1080p24, 1080p23.98,1080i120, 1080i119.88, 1080i100, 1080i60, 1080i59.94, 1080i50, 720p120, 720p119.88, 720p100, 720p60, 720p59.94 , 720p50, 720p30, 720p29.97, 720p25, 720p24, 720p23.98, 480p120, 480p119.88, 480p100, 480p60, 480p59.94, 576p100, 576p50 |
| Component | Not Supported |
| Composite | Not Supported |
| Audio | HDMI & SDI - Monitor through Speakers in Front Bezel or Through Headphone Jack - Metering up to 8 channels |
Output Signal Types/Formats
| | |
| --- | --- |
| 3G-SDI | YCC 4:2:2 @ 10-bits: 1080p60, 1080p59.94, 1080p50, 1080i60, 1080i59.94, 1080i50 |
| HD-SDI | YCC 4:2:2 @ 10-bits: 1080p30, 1080p29.97, 1080p25, 1080p24, 1080p23.98, 1080psf30, 1080psf29.97, 1080psf25, 1080psf24, 1080psf23.98, 1080i60, 1080i59.94, 1080i50, 720p60, 720p59.94, 720p50, 720p30, 720p29.97, 720p25, 720p24, 720p23.98 |
| SD-SDI | YCC 4:2:2 @ 10-bits: 480i29.97, 576i25 |
| HDMI | YCC 4:2:2 @ 8 bits, 8/10/12 bit color in RGB & YCC 4:4:4: 1080p60, 1080p59.94, 1080p50, 1080p30, 1080p29.97 1080p25, 1080p24, 1080p23.98,1080i60, 1080i59.94, 1080i50, 1080i30, 1080i29.97, 1080i25, 720p120, 720p119.88, 720p100, 720p60, 720p59.94 , 720p50, 720p30, 720p29.97, 720p25, 720p24, 720p23.98, 480p120, 480p119.88, 480p60, 480p59.94, 576p100, 576p50, 480i240, 480i239.76, 480i120, 480i119.88, 480i60, 480i59.94, 480i30, 480i29.97, 480i24, 480i23.98, 576i200, 576i100, 576i50, 576i25 |
| Component | Not Supported |
| Composite | Not Supported |
| Audio | HDMI & SDI - Incoming Audio Stream is sent downstream via HDMI or SDI connection |
Connector Type
| | |
| --- | --- |
| SDI | 2x 3G Inputs (BNC), 2x 3G Outputs (BNC) |
| HDMI | 1x Input, 1x Output |
| Component | Not Supported |
| Composite | Not Supported |
| Audio | 1x 嚙踝蕭嚙?rdquo; Headphone Jack on Front of Monitor |
| Power In | 1x AC Power Input - 3 Prong 90-260V, 1x XLR 4-pin Input 12-34VDC, 1x Lemo Output 12VDC @ 4A Max |
| Power Out | 1x XLR 4­pin Input 12­-34VDC, 1x Lemo Output 12VDC @ 4A Max |
| USB | 1x Front USB2, 2x Rear USB2 |
Controls
| | |
| --- | --- |
| Primary Control Interface | Joystick Navigation, Dedicated Back Button. Additional Dedicated buttons for: LUT Selection; Backlight Level; Input Switch; Settings Menu; Multi View; Page 1-4 Instant Selection; Tools Menu |
| Record/Capture | Dedicated Capture Button on Front Bezel |
| User Defined Functions | |
| RF Wireless Remote / External Control | |
| USB Remote / External Control | |
Data I/O
| | |
| --- | --- |
| Storage | SD Card for LUTs, Captured Images, Image Overlays, Firmware Upgrades, Profile Saving. |
| USB | USB ports support storage devices for LUTs, Captured Images, Image Overlays, Profile Saving. |
| Wireless | |
| Wifi | |
Power
| | |
| --- | --- |
| Connector Type | Single XLR 4-pin 12-34V DC IN for Battery or Power Supply, 12V Lemo 2-pin OUT MAX 2A |
| Voltage | AC: 100 - 240 VAC 50-60Hz DC: 12 - 34 VDC |
| Power Consumption | 28W Typ |
| Battery Plate Included | Optional V-Mount, Gold-Mount |
| Recommended Power Supply | Included |
| Overload Protection | Yes |
| Smart Battery Compliant | |
| Battery Types | Gold-Mount, V-Mount with optional Battery Plate Accessory |
| Battery Chemistry | |
| Output Voltage (VDC) | 12V @ 2A via 2-pin Locking LEMO Connector |
| Battery Capacity (mAh) | |
| Battery Charging Time (hours) | |
Environmental
Compliance

FCC, IC, CE, RoHS

Operating Temperature

32F - 100F

Storage Temperature

0F - 104F

Screen Protection

Optional Acrylic Screen Protector

Height

11.7

" (29.72cm)
Width

17

" (43.18cm)
Depth/Length

2.5

" (6.35cm)
Weight (Item Only without battery)

12.0625

lb (5.47kg)
Weight (Packaged)

16.86

lb (7.65kg)
Mount Points

Multiple ¼"-20 & 嚙踝蕭嚙?rdquo;-16 Threads on Top, Bottom, Left & Right Sides. Cold Shoe Style Rails on Back of Monitor. Available Cheeseplate for Battery Bracket Mounting. Available Rapid Rail Mount interfaces with cold shoe slots for 2 additional ¼"-20 threads.

Note:
Software
| | |
| --- | --- |
| Pixel Zoom (type) | 2x & 4x Zoom with smooth pan via joystick |
| Frame Guides | Yes: Preset Aspect Ratios & Customizable |
| DSLR Scale | Canon 5DMkii & Canon 7D |
| Custom Scale | Yes (Underscan Only) |
| Anamorphic De-Squeeze | Yes: 1.33x, 1.5x, 1.66x, 2.0x |
| Image Rotate(Manual/Automatic) | Yes - Automatic or Manual Control |
| Image Flip (Manual/Automatic) | Yes - Automatic or Manual Control |
| Cross Conversion | Yes: HDMI → SDI & SDI → HDMI |
| Focus Assist (Colours) | Yes - User Adjustable Colour Style and Intensity |
| Peaking | Yes - User Adjustable Intensity |
| False Colour | Yes - Rainbow & Arri Style |
| Zebra | Yes - Dual - User Configurable |
| Waveform | Yes - Luma & RGB Style, Fully User Customisable w/ Region of Interest Highlighting |
| Vectorscope | Yes |
| PIP | |
| RGB Parade | Yes - Fully User Customisable |
| Histogram | Yes - Luma & RGB Style |
| Horizon Indicator | |
| Image Capture | Yes - With Dedicated Button |
| Dailies Recording/Playback | |
| Master Recording | |
| Wifi Streaming | |
| Custom LUTS | Yes - Loadable as Looks on Pages or as Systemwide Colour Calibration via the settings menu |
| LUT Creation | |
| LUT Downstream | Yes - Available on SDI 1 or HDMI Out. Applied on Output Preview Page. |
| LUT Import | via SD Card or USB Storage Device |
| Onion Skinning | |
| Image Overlay | Yes with Opacity Slider and Blink Setting |
| Blue Only | |
| Firmware | Compatible with 1300-1700-2400-3200 Firmware V1.4 and later |
| Audio Meters | Yes ­ HDMI & SDI up to 8 channel |