Home

/

Deity Connect Deluxe Kit Inc 2x BP-TRX +1x Duo RX
Deity Connect Deluxe Kit Inc 2x BP-TRX +1x Duo RX
09.CONNECT-DELUXE-KIT
Product Features:
Transmit. Receive. Record
Transmit and record simultaneously
2 x BP-TRX Units 1x Duo RX Unit
Guard Rail™️ Analog Limiter
1.3″ OLED display
Rugged metal build quality
TXCO timecode clock
USB Digital Audio Output
Camera Hop mode
Stereo 3.5mm Input
Deity Connect Deluxe Kit Inc 2x BP-TRX +1x Duo RX
Essential Add-On's we recommend
Description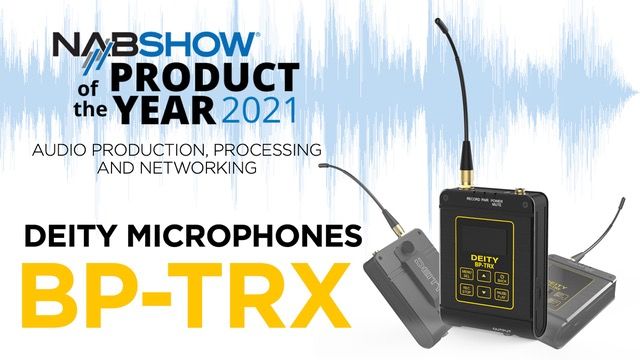 The small, lightweight BP-TRX units easily attach to talent via belt clips and feature locking 3.5mm input connectors to accommodate the supplied omnidirectional lavalier microphones; foam windscreens and lapel clips are also included. Input gain is adjustable from -12 to +36 dB, while the Guard Rail analogue limiter helps keep the signal from clipping and distorting if the source gets too loud—letting you place the recorder in the talent's pocket without worrying about sudden level changes. Audio is recorded at a 24-bit / 48 kHz resolution to a microSD card (available separately) with a maximum capacity of up to 128GB.
When the two BP-TRX units are paired, they function as a digital wireless microphone system in the 2.4 GHz spectrum with a range of up to 328'. The receiving unit can be camera-mounted via a 1/4"-20 thread beneath the removable belt clip. To record, connect the locking 3.5mm output to your camera's 3.5mm input using the included coiled cable. The unit cannot transmit or receive while recording to the microSD card. The transceiver design allows for a wide variety of uses, including IEM and camera-hopping applications, as the unit can pair with up to four BP-TRX receivers at once. What's more, it enables control over numerous parameters on the transmitter—including input levels, low-cut filter settings, high-frequency boost options, and RF output adjustments—all remotely from the receiver.
The onboard SMPTE timecode generator also outputs to the 3.5mm connector, allowing you to use it as a master clock and jam-sync the other BP-TRX unit or any other devices that support timecode. The unit jam-syncs to incoming code via the same locking 3.5mm input used for the microphone. Timecode sync and audio cable are included that lets you record both signals to an external device.
Power is supplied by a built-in rechargeable battery, allowing the BP-TRX to operate for up to 12 hours when used in transmitter or receiver modes, up to 21 hours in record mode, and up to 25 hours as a timecode-only box. The USB Type-C charging port also functions as a stereo audio interface for Mac and Windows computers. Charging cables and removable antennas are included.
Two Compact Audio Recorder/Transceivers with Lav Mics & Input Limiting
Each BP-TRX records 24-bit / 48 kHz audio to a microSD with a capacity of up to 128GB (available separately)
Two omnidirectional lavalier microphones are included with foam windscreens and lapel clips
Sennheiser-standard locking 3.5mm TRS input for compatibility with popular lavalier microphones such as the Sanken COS-11D, DPA CORE Series, Sennheiser ME 2-II, Deity W.Lav Pro, and others
Accepts mic- or line-level signals
Guard Rail analogue limiter reduces clipping and overloads at the input stage
Selectable stereo line-level input mode
-12 to +36 dB input adjustment
Compact size with durable brushed-aluminium housing for durability
Removable belt clip with 1/4"-20 thread underneath for camera mounting when used as a receiver
Daylight-bright, high-resolution OLED screen shows statuses of all major features and real-time VU metering on the home screen
Off / 20 / 200 Hz low-cut filter settings
Off / +1dB to +10dB high-frequency boost at 7 kHz for added clarity and presence
Screen and button lock to avoid accidents
2.4 GHz Digital Wireless System
Use as camera-mountable wireless microphone system with a maximum range of 328'
Remote control of many transmitter functions from BP-TRX receiver unit
Pair with up to four BP-TRX units as receivers for camera-hop or IEM applications
Proprietary encryption for secure transmission
Internal antenna and removable external antenna with SMA connector to ensure reliable wireless performance
Auto/manual RF power output adjustment from 10 to 100mW
Automatic RF power mode increases battery life by never using more power than the system needs
Assignable unique user ID
Record function available when wireless operation is impractical
Timecode Input and Output for Video Creators
Timecode support makes it easy to sync sound and video
Sync multiple devices to the BP-TRX's timecode generator via the 3.5mm output
Jam-sync to incoming timecode via the 3.5mm mic input
Timecode frame rates: 23.976ND, 24ND, 25ND, 29.97ND, 29.97D, 30ND, 30D
With its 0.2ppm accuracy, the BP-TRX will only drift 1 frame every 24 hours
When recording is done, simply drop the synced audio and video into your editing system for postproduction
DUO-RX Receiver
Dual true diversity antenna arrays for a quad-antenna setup
Removable SMA elbow antennas allow user upgrades to clover antennas, directional antennas, or antenna splitters
Screen, buttons, and antennas face up in a sound bag, while USB Type-C and audio outputs are on the bottom for easy cable management
Lightweight at just 8.7 ounces
Daylight-bright, high-resolution OLED screen shows real-time VU metering, transmitter battery level, and more on the home screen
Convenient remote control of every audio adjustment on each transmitter
Powered via internal lithium batteries for up to 10 hours at 100mW RF output power
Recharges via USB Type-C connections in about an hour
Up to 500 battery cycles
Easy firmware updates
Two locking 3.5mm outputs with multiple output modes
1/4"-20 and 3/8" mounting points
Note: the DUO-RX does not offer timecode support
In the Box
2 x Deity Microphones BP-TRX Compact Microphone Recorder and Wireless Transceiver with Timecode I/O (2.4 GHz)
1 x RX Duo Unit
2 x W.Lav Lavalier Microphones
2 x Cable Ties
2 x Lapel Clips
2 x Foam Windscreens
2 x USB Type-C Data/Charging Cables
2 x Timecode Sync and Audio Cables
2 x External Antennas for BP-TRX
USB Type-C to USB Type-A Firmware Update Adapter
Cold Shoe
Locking 3.5mm to 3.5mm Coiled Cable