---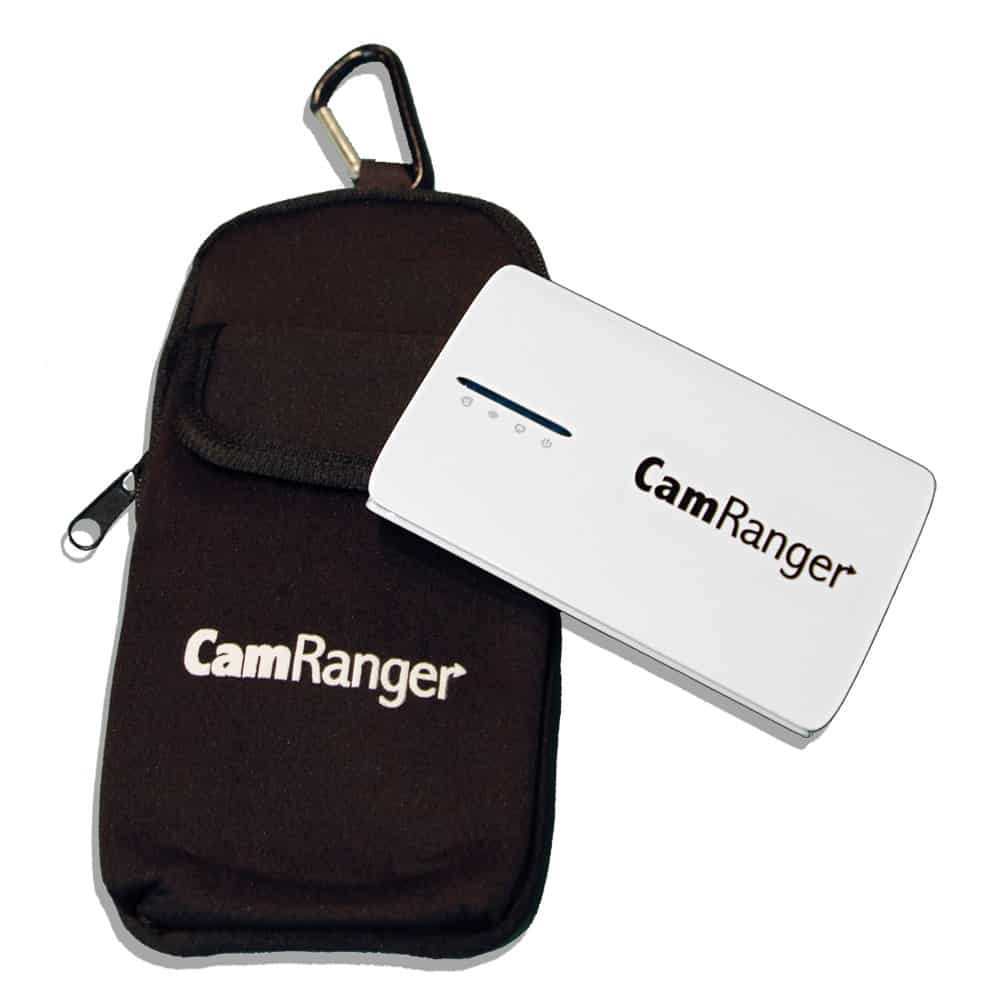 CamRanger allows wireless control of your Canon or Nikon DSLR directly from your mobile or desktop device. By creating it's own ad-hoc network which removes the need for internet access or additional computers the CamRanger is an effective way to access advanced functionality on your DSLR camera from up to 50m away.
The provided rechargeable and replaceable Lithium-Ion battery allows you to run the CamRanger effectively between 3-6 hours depending on use. It can also be charged and powered using the supplied USB cable. The supplied Ethernet cable is used for any firmware upgrades for future enhancements.
Cam Ranger Features
Live View
Wirelessly stream live view from the camera to the platform device.
Double tap to increase magnification.
Single tap to focus on an area or make incremental focus adjustments.
Perform focus stacking.
Frame rate of about 8 – 18 fps depending on the camera.
Take and View Pictures
Wirelessly capture images in multiple drive modes.
Thumbnails automatically appear on the top of the screen after taking a picture.
Tap a thumbnail to view the image and its associated meta-data.
Images are always saved to the camera card and optionally downloaded to the device (iPad, iPhone, iPod Touch, Android, or Mac or Windows computer).
Optionally select to have images automatically view on the device.
View Full Resolution Images
Double tap to view the image at full resolution.
Supports full screen mode to maximise the screen size.
Toggle a variety of overlays: AF points, highlight, shadow, grid lines, and aspect ratio.
Auto View
Configure your device to automatically display pictures as they are taken.
Toggle on "Client Mode" to remove camera controls from the platform device.
Allows others such as clients, directors, or associates to quickly and wirelessly view the shots after they are taken by the photographer at the camera.
Movie Recording
Start and stop movie recording.
View video while recording.
Focus adjustments and touch focusing.
Movie features are very camera dependent, see

supported cameras

for more details.
Intervalometer and Bulb
Configure as an intervalometer to take time lapse pictures.
Supports bulb mode with typical control and by using custom defined shutter lengths.
No need for your device to remain connected after starting.
View and Set Camera Properties
Shutter Speed
Aperture
ISO
Metering Mode
Drive/Shooting Mode
White Balance
Image Format
Focus Mode (Nikon only)
Auto Exposure Mode (Nikon only)
Exposure Compensation & Bracketing
Software Auto-Focus toggle to toggle AF/MF
HDR/Advanced Bracketing
Configure CamRanger to take a series of pictures automatically varying Shutter Speed, Aperture, or ISO.
Images can then be post-processed with 3rd party software.
View Camera Card Contents
View thumbnails of the images on your camera's memory card.
Select images to be permanently deleted or download them and save into your device's (iPad, iPhone, iPod Touch, Android, or Mac or Windows computer) photo library.
Double tap image to view full resolution image.
Macro Photography
Provides very precise focusing control.
Great for situations requiring awkward camera placements.
Perform automatic focus stacking to enhance depth of field (post processing with 3rd party software required).
Experimental Focus Peaking
New Experimental Focus Peaking provides an outline for all infocus areas for both Live view and Video mode!
Night Mode
A feature

requested by the astrophotographers, this feature provides a red overlay to help keep your night vision intact.
CamRanger Share App!
The new CamRanger Share app allows you to wirelessly share images and live view across multiple devices using the FREE CamRanger share app. This is perfect for Photographers or Videographers wanting to share this information across multiple devices. CamRanger Share can be downloaded for
FREE here
.
Accurately Calibrate Images with ColorTRUE
The CamRanger iPad and iPhone app is now compatible with X-Rite's colour calibrator. X-Rite ColorTRUE is a colour calibration tool used to accurately correct the colour. CamRanger is the first third party app to provide compatibility with ColorTRUE. If the photographer is viewing images within the CamRanger app using a iPhone or iPad, the colours are not accurate since the colours on these devices drift over time, causing colour distortion when viewed.
NEW Multi Camera Support!
Control multiple cameras and CamRangers using the CamRanger Launcher application.
Supported on Mac and Windows computers.
The CamRangers in use require version 8 firmware.
Requires the most recent CamRanger and CamRanger Launcher software.
Social Media and Saving Options for iOS and Android - NEW!
Post images to social media instantly from within the CamRanger iOS application. After updating your CamRanger app, you can post to Facebook, Twitter, Instagram, Flickr, an FTP server, or Dropbox from within the app.
One can also directly print images to a compatible printer and e-mail and text message images.
These share features are easily accessed when an image(s) is selected and by pressing "Share" at the bottom of the CamRanger application.
Either WiFi or cellular data must be in use in order to share images during the CamRanger session.
Supported Camera's
Canon: SL1 / 100D | Xsi / 450D | T1i / 500D | T2i / 550D | T3i / 600D | T4i / 650D | T5i / 700D | T6i/T6s / 750D/760D | 40D | 50D | 60D | 70D | 80D | 7D | 7D II | 6D | 5D II | 5D III | 5D IV | 5DS/5DSr | 1Ds III | 1D III | 1D IV | 1Dx | 1DC | 1Dx II
Nikon: D5000 | D5100 | D5200 | D5300 | D5500 | D90 | D7000 | D7100 | D7200 | D300 | D300S | D500 | D600 | D610 | D700 | D750 | D800 | D800E | D810 | D3 | D3s | D3x | D4 | D4s | D5 | Df
For a full list of supported camera features please click here
CamRanger's Free Software is compatible on the following platforms
iOS: Requires iOS 6.0 or later. Compatible with iPhone, iPad, and iPod touch.
Android: 4.0 software and up (download at the Google Play store)
Kindle Fire: The CamRanger app supports the Kindle Fire HD and the Kindle Fire HDX.
Mac OSX: Version 1.9.3 supports 10.8/Mountain Lion, 10.9/Mavericks, 10.10/Yosemite, 10.11 El Capitan, and MacOS Sierra. (download at CamRanger.com)
Windows: The CamRanger Version 1.2.1 is compatible with Windows 7, 8, and 10 computers. Please note the difference between Windows 8 and Windows 8 RT. CamRanger only supports the full version of Windows 8 (download at CamRanger.com)